The Benefits of White Car Wrap Vinyl: Aesthetic and Practical Advantages
White car wrap vinyl offers several aesthetic and practical advantages for car owners. Here are some of the benefits:
1. Sleek and Timeless Look
White is a classic color that never goes out of style. Wrapping your car in white vinyl gives it a clean, sleek, and timeless appearance that can enhance the overall aesthetics of the vehicle.
2. Versatility in Design
White car wrap vinyl provides a versatile canvas for various design options. You can choose to keep it simple and elegant with an all-white look or add other colored accents and graphics to create a unique and personalized design.
3. Enhanced Resale Value
Since white is a popular and widely accepted color choice, wrapping your car in white vinyl can potentially increase its resale value. Many car buyers prefer neutral colors like white, making it a more appealing option in the used car market.
4. Temperature Regulation
White color reflects sunlight and heat better than darker shades. Wrapping your car in white vinyl can help to keep the interior cooler on hot days, reducing the need for excessive air conditioning.
5. Protection for OEM Paint
White car wrap vinyl acts as a protective layer for your car's original paint, shielding it from minor scratches, chips, and UV damage. This protection can help maintain the car's resale value over time.
6. Ease of Maintenance
White car wrap vinyl is relatively easy to clean and maintain. Regular washing with mild soap and water can keep the vinyl looking fresh and new.
7. Cost-Effective Option
Compared to a full paint job, wrapping your car in white vinyl is often a more cost-effective solution for changing its appearance. It allows you to achieve a similar result without the same level of investment.
8. Temporary Customization
If you enjoy changing the look of your car frequently, white car wrap vinyl provides a temporary customization option. You can easily remove or replace the vinyl wrap to try out different styles.
9. Branding Opportunities
For businesses using vehicles for commercial purposes, white car wrap vinyl offers a blank canvas to display branding elements, logos, and contact information. It serves as a mobile billboard to promote your business.
10. Non-Permanent Modification
Unlike a new paint job, applying white car wrap vinyl is a non-permanent modification. If you decide to revert to your car's original color or try a different wrap, it can be easily removed without damaging the underlying paint.
In summary, white car wrap vinyl provides not only a beautiful and versatile appearance but also practical benefits such as protection, temperature regulation, and cost-effectiveness. It is an excellent choice for car owners looking to enhance their vehicle's aesthetics without committing to a permanent change.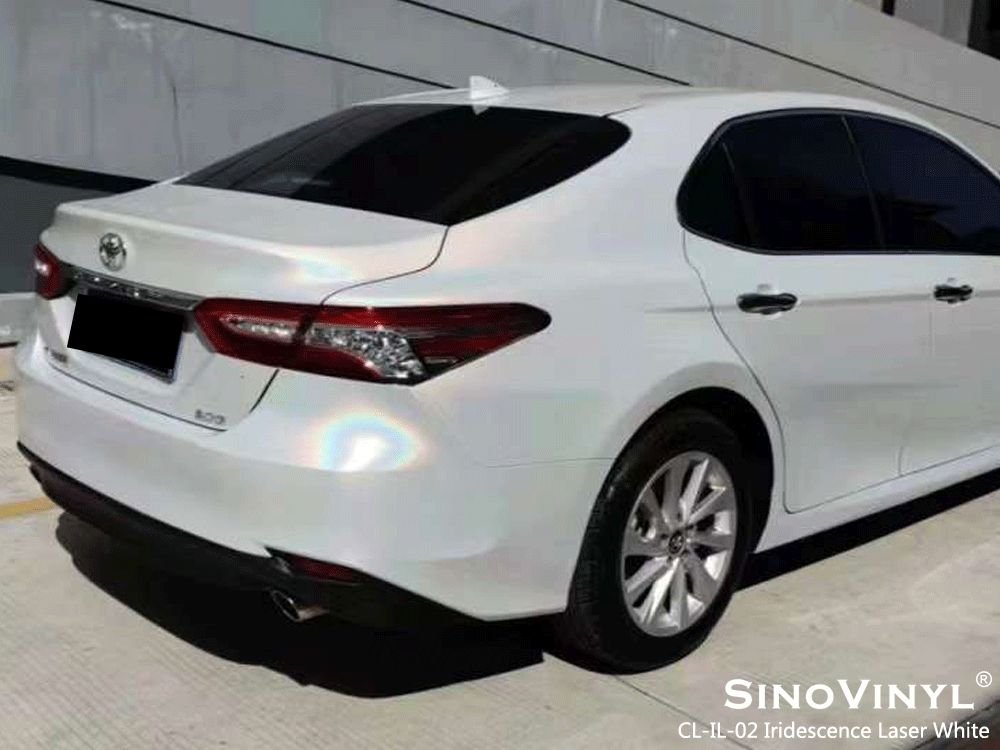 Maintaining the Shine: Care and Maintenance Tips for White Car Wrap Vinyl
Maintaining your white car wrap vinyl is crucial to ensure its longevity and keep your vehicle looking pristine. Here are some maintenance tips to follow:
1. Regular Cleaning
Clean your white car wrap vinyl regularly to remove dirt, dust, and debris that may accumulate on the surface. Use a gentle car wash soap and a soft microfiber cloth to avoid scratching the vinyl.
2. Hand Washing
Avoid using automated car washes with harsh brushes or high-pressure sprays, as they can damage the vinyl. Instead, opt for hand washing to have better control over the cleaning process.
3. Use Recommended Products
Stick to cleaning products recommended by the vinyl wrap manufacturer or installer. Harsh chemicals and abrasive cleaning agents can degrade the vinyl and affect its appearance.
4. Avoid Scratches and Abrasions
Be mindful of sharp objects, abrasive materials, and rough surfaces that may scratch or damage the vinyl. Avoid using stiff brushes or scrub pads when cleaning.
5. Mind the Temperature
Extreme heat can cause the vinyl to expand, and extreme cold can make it more brittle. Whenever possible, park your car in the shade or a covered area to protect the vinyl from temperature fluctuations.
6. Avoid Petroleum-Based Products
Refrain from using products containing petroleum, such as tar removers or certain waxes, as they can harm the vinyl's adhesive and cause it to lift or bubble.
7. Remove Stains Promptly
If you notice any stains on the vinyl, address them promptly. Avoid letting substances like bird droppings, tree sap, or road tar sit on the wrap for an extended period.
8. Use a Sealant or Protective Spray
Consider using a vinyl-specific sealant or protective spray recommended by the manufacturer to add an extra layer of protection to the wrap.
9. Waxing with Caution
While some vinyl wraps can be waxed, always check the manufacturer's guidelines before applying wax. Some vinyl wraps have a low-gloss finish, and waxing may not be necessary or suitable.
10. Inspect for Damage
Periodically inspect your white car wrap vinyl for any signs of damage, peeling, or lifting edges. If you notice any issues, address them immediately to prevent further damage.
11. Avoid Pressure Washing
High-pressure water can penetrate seams and edges of the vinyl, causing it to lift. Stick to hand washing or low-pressure rinsing.
12. Be Gentle during Drying
Pat dry the vinyl wrap with a soft, clean microfiber cloth instead of rubbing it vigorously, as rubbing can lead to scratches.
By following these maintenance tips, you can extend the life of your white car wrap vinyl and keep your vehicle looking fantastic for years to come.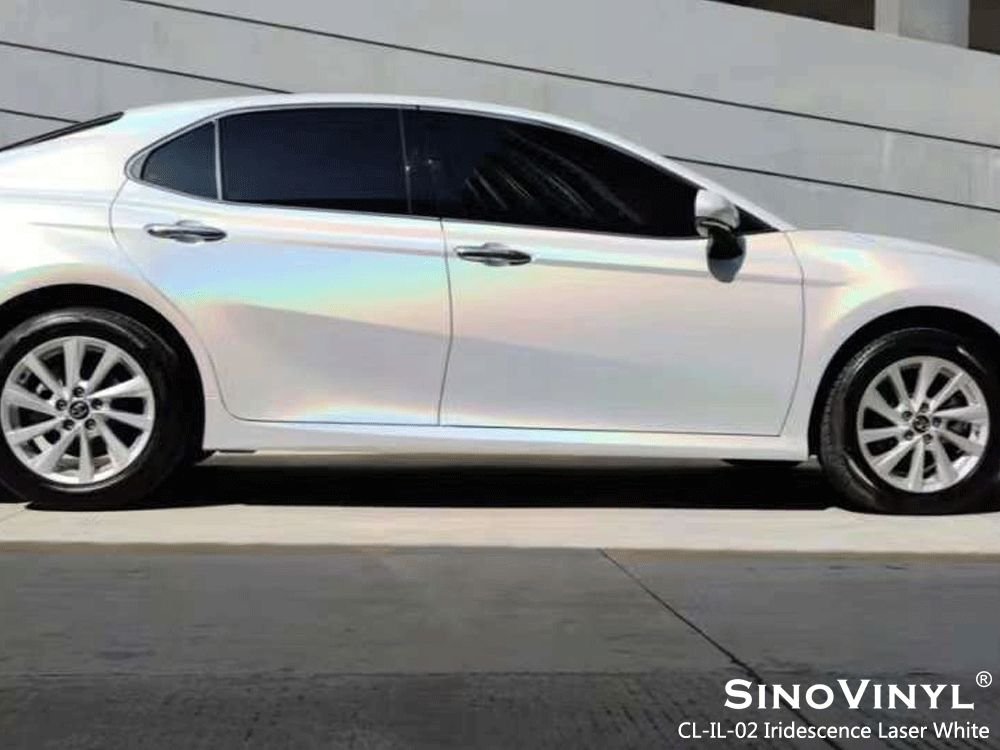 Protecting Your Car's Paint: How White Vinyl Wrap Acts as a Shield
White vinyl wrap acts as a shield for protecting your car's paint by providing a protective layer over the original paintwork. When properly applied, the vinyl wrap forms a strong and durable barrier that guards the car's paint against various external elements and potential damage. Here's how white vinyl wrap serves as a protective shield for your car's paint:
1. Physical Protection
The vinyl wrap creates a thick and robust layer over the car's paint, acting as a shield against minor physical abrasions, scratches, and small dents. It absorbs the impact of small debris, road particles, and other superficial hazards, keeping the original paintwork underneath safe.
2. UV Ray Defense
White vinyl wrap, like other high-quality vinyl materials, is designed to be UV-resistant. It prevents harmful ultraviolet rays from the sun from directly reaching the car's paint. UV rays can cause oxidation, fading, and peeling of the paint, but the vinyl wrap acts as a barrier, reducing these harmful effects and preserving the paint's color and shine.
3. Chemical and Contaminant Resistance
Vinyl wrap is engineered to be resistant to various chemicals and contaminants commonly found on roads, such as bird droppings, tree sap, road salts, and industrial pollutants. These substances can harm the car's paint over time, but the vinyl wrap serves as a protective barrier that resists their damaging effects.
4. Weather Protection
White vinyl wrap shields the underlying paint from the harsh effects of weather conditions. It helps to prevent paint fading and damage caused by rain, snow, ice, and extreme temperatures. Additionally, the wrap also guards against oxidation, which can occur due to prolonged exposure to moisture and air.
5. Easy to Clean
The smooth surface of vinyl wrap makes it easier to clean and maintain compared to bare paint surfaces. Regular washing of the vinyl wrap helps to remove dirt and grime, ensuring that the car maintains a clean and polished appearance.
6. Reversible Protection
One of the advantages of using vinyl wrap is that it can be removed without causing any damage to the original paint. This means that if you decide to change the color or return to the car's original paint, you can do so without any negative impact on the paintwork.
Overall, white vinyl wrap acts as a protective shield for your car's paint, preserving its appearance and value while providing added benefits such as customization options and ease of maintenance. When installed and maintained correctly, it can significantly extend the life and quality of your car's paintwork.
Final Words
In conclusion, the art of transformation through white vinyl wrap opens up a world of endless possibilities for car owners seeking to elevate their vehicle's aesthetics and protection. From its sleek and stylish appearance to the practical benefits of safeguarding your car's paint, this versatile solution offers a unique way to express your individuality and make a statement on the road. Whether you're opting for a full white vinyl wrap or using it as an accent, the process of enhancing your car becomes a creative journey. Embrace the durability and UV-resistant properties that shield your car from the elements while enjoying the ease of maintenance it provides. So, why settle for ordinary when you can transform your ride into a rolling masterpiece with the artistry of white vinyl wrap? Unleash your creativity and embark on an extraordinary journey of automotive personalization. Elevate your car, express yourself, and stand out in the crowd as you embark on countless adventures with a truly distinctive and captivating vehicle. Embrace the art of transformation today and witness the remarkable impact of white vinyl wrap on your beloved car.