If you're in search of a transformative solution to elevate your vehicle's allure, look no further than the Gloss Matte Pearlescent White Vehicle Vinyl Wrap. This cutting-edge product seamlessly blends style, protection, and adaptability to breathe new life into your car, truck, or SUV.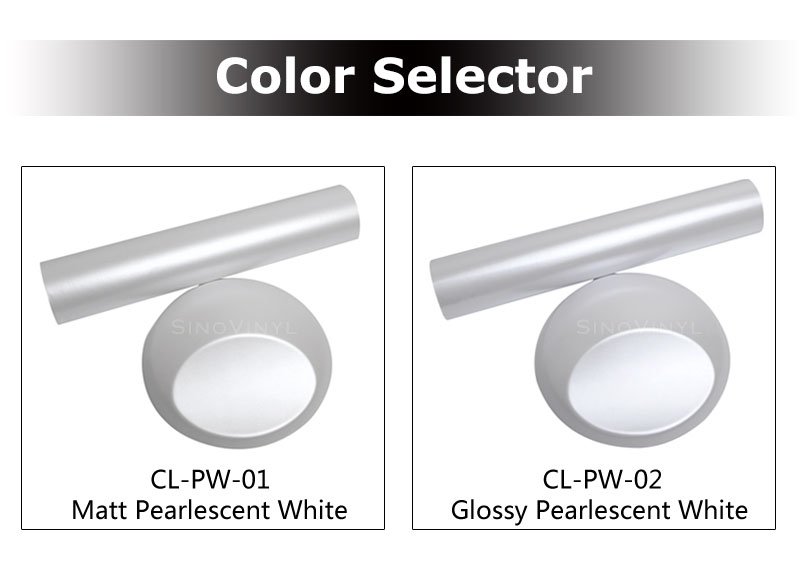 Mesmerizing Aesthetic and Robust Protection:
The Gloss Matte Pearlescent White Vinyl Wrap captivates with its pearlescent finish, infusing your vehicle with depth and distinction.Beyond its stunning appearance, it delivers unwavering protection, guarding your vehicle against UV rays, road debris, and minor scrapes.
Effortless Installation and Timeless Elegance:
Whether you're a seasoned professional or a DIY enthusiast, the wrap's user-friendly design ensures an uncomplicated installation process.
Crafted from premium materials, it maintains its timeless elegance, resisting the rigors of daily use to preserve its alluring appearance.
Versatility in Application and Effortless Upkeep:
This Gloss Matte Pearlescent White Vinyl Wrap transcends automobile boundaries, making it suitable for motorcycles, boats, and interior surfaces, ensuring a cohesive and exclusive style.Keeping your vehicle in immaculate condition requires minimal effort, with cleaning as simple as using mild detergent and a soft cloth.
Elevated Resale Value and Innovative Customization:
When the time comes to part ways with your vehicle, the Gloss Matte Pearlescent White Vinyl Wrap can enhance its resale value by safeguarding the original paint beneath.Fuel your creativity by mixing and matching the wrap with other colors or patterns to forge a truly distinctive appearance.
Budget-Friendly and Environmentally Conscious:
Compared to a full-fledged paint job, Gloss Matte Pearlescent White Vinyl Wrap offers a wallet-friendly alternative to revamp your vehicle's look.Embrace an environmentally conscious choice, as vinyl wraps produce fewer emissions during installation compared to traditional painting methods.
In summary, the Gloss Matte Pearlescent White Vehicle Vinyl Wrap stands as an unrivaled solution for elevating your vehicle's aesthetic appeal while providing steadfast protection. Whether you seek a show-stopping makeover or seek to safeguard your investment, this product marries top-tier quality and style. Embrace a vehicle upgrade today and turn heads wherever your journey takes you.