The TPU-SR UV Rejection TPU Ice Armor Sunroof Film is an innovative and advanced sunroof film designed to offer superior protection and comfort for vehicles. Sunroofs provide a sense of openness and natural light to the interior, but they can also expose passengers to harmful UV rays and excessive heat. The TPU-SR Sunroof Film addresses these concerns by utilizing cutting-edge technology to reject harmful UV rays and maintain a comfortable interior temperature, enhancing the overall driving experience.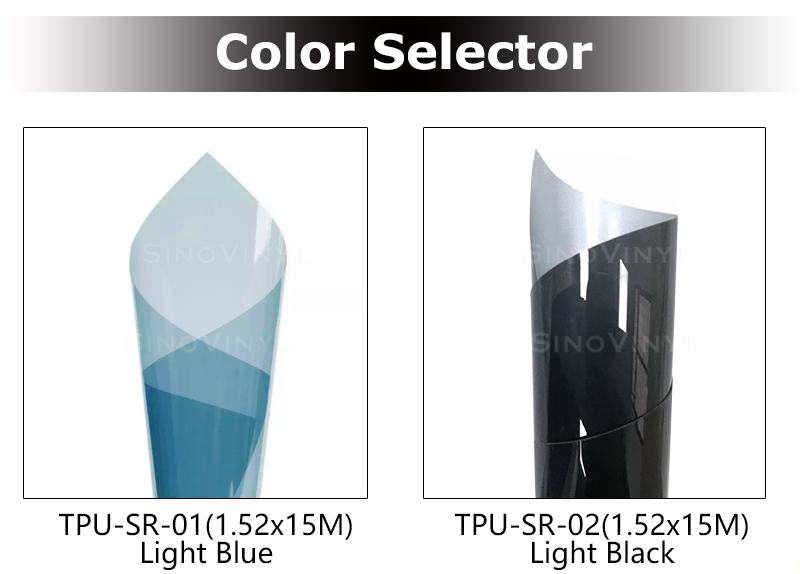 TPU-SR UV Rejection Technology
The TPU-SR Sunroof Film incorporates a specially engineered TPU (Thermoplastic Polyurethane) material that offers exceptional UV rejection capabilities. UV rays from the sun can cause damage to the vehicle's interior, leading to fading and deterioration of surfaces like dashboard and seats. Moreover, prolonged exposure to UV rays can be harmful to passengers' skin and eyes. The TPU-SR film acts as a shield against harmful UV rays, blocking a significant percentage of them from entering the vehicle's interior and ensuring the interior's longevity.
Ice Armor Technology
In addition to its UV rejection properties, the TPU-SR Sunroof Film also employs Ice Armor technology to manage interior temperature effectively. During hot weather, vehicles with sunroofs can become uncomfortably warm, making it challenging for passengers to enjoy the ride. The Ice Armor technology utilizes a unique formulation in the TPU material, which reflects a portion of the sun's heat, preventing excessive heat buildup inside the car. As a result, the interior remains cooler, providing a more pleasant and comfortable environment for occupants.
Easy Installation and Durability
The TPU-SR Sunroof Film is designed for easy installation, ensuring a hassle-free process for both car enthusiasts and professional installers. Its high-quality TPU material ensures excellent flexibility and adaptability to the sunroof's shape, allowing for a seamless fit. The durable and scratch-resistant surface of the film helps protect against daily wear and tear,.Maintaining its performance and appearance for an extended period.
The TPU-SR UV Rejection TPU Ice Armor Sunroof Film offers a comprehensive solution to sunroof-related issues, providing protection against harmful UV rays, reducing interior heat buildup, and enhancing overall comfort. Its advanced TPU material, coupled with Ice Armor technology, ensures both durability and improved driving experience. With easy installation and long-lasting performance, the TPU-SR Sunroof Film is an excellent investment for vehicle owners seeking enhanced sunroof protection and comfort.
Benefits of UV Protection: Expound on the significance of protecting the vehicle's interior from UV rays, discussing how the TPU-SR Sunroof Film helps prevent fading, cracking, and damage to various surfaces.
Enhancing Fuel Efficiency: Elaborate on how the TPU-SR Sunroof Film's Ice Armor technology can contribute to improved fuel efficiency by reducing the need for air conditioning during hot weather.
Comparative Analysis: Conduct a comparative analysis of the TPU-SR Sunroof Film with other sunroof films in the market, highlighting its unique features and advantages.
Customer Testimonials: Include testimonials from customers who have installed the TPU-SR Sunroof Film, sharing their experiences and satisfaction with the product.
Environmental Impact: Discuss the environmental benefits of reduced energy consumption in vehicles due to the cooling effects of the TPU-SR Sunroof Film, contributing to a greener and more sustainable automotive industry.