Sino Group Co., LTD was found in 2008, a professional manufacturer and exporter, which is concerned with design production and sale of car wrap vinyl, paint protection ppf film, carbon fiber vinyl, auto light tint film and many vehicle vinyl wrap materials located in China. Our company is blessed with convenient transportation facilities.
All of our products are strictly complied with international quality standards and  are greatly appreciated in a variety of diverse markets throughout the world.
Our well-equipped facilities and excellent quality control throughout all stages of the productive process have enabled us to guarantee total customer satisfaction.
5 Years Warranty Heat Repair TPU Car Paint Protection Film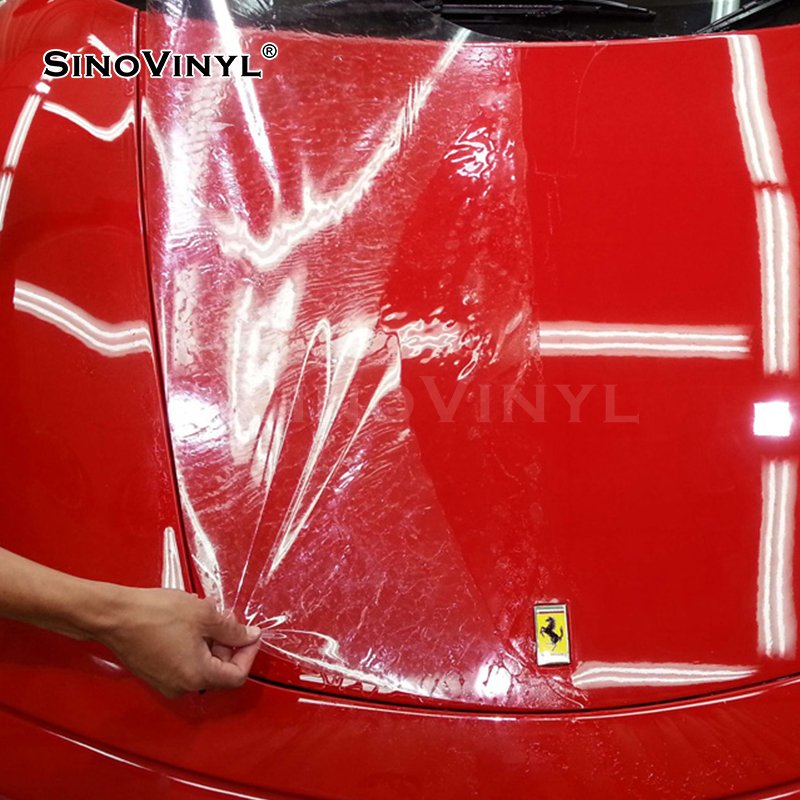 Characteristic: Heat repair
Model Number: CL-PPF-TPU
Brand: SINOVINYLⓇ
Performance level: Premium+
Size: 1.52x15M/5x49FT
Color: TPU Transparent
Film thickness: 190micron, 7.6mil
Glue thickness: 30μm
Repair coating: 10μm
Release paper: Transparent
Durability: 5 years
Adhesive style: Transparent, polyacrylate, removable
Application: Car paint protection
Paint protection is a must for anyone who truly cares about the appearance of their vehicle. Every car owner knows that you have to install car paint protection film if you want to keep your vehicle looking as good as the day you bought it.
How Does PPF Protect My Car?
When you add a clear protection film on your car, you create a protective barrier that keeps the damage away from the paint. That thick layer of polyurethane absorbs the damage. Here's the best part, though — the self-healing paint protection film won't show minor damage. Scratches disappear and chips fill in. With nonprotective films, you may have to replace them as chips show up or discoloration occurs. They keep your original paint job in good condition, but don't always contain the technology to heal themselves and stay looking good. You may need to replace those films as they receive damage. The unique formulation of paint protection films allows them to adjust to these incidents.
Another reason people turn to these films is that they allow you to show off the natural beauty of your car's original paint job. You don't need to change it to add protection, and the film is crystal clear to let the original color shine through — no cloudy colors or tints in sight. You can even wax and wash your car like normal. The idea of these films is to be unnoticeable. They add protection without altering the look of your car.
When you're done with your protective film — which probably won't be for a long time, considering their service life up to 5 years — it peels off easily without damaging the underlying paint. After all, it's meant to be protective. Whether you want to paint your car or sell it, you can confidently remove it without worrying about the paint underneath.
Factory Show of SINOVINYL: TPU PPF Film Supplier
You May Interest
(Click the picture to learn more)
TPU Heat Repair Car Wrap Vinyl