Choosing the Perfect Shade: Exploring Different Pink Car Wrap Options
When it comes to pink car wraps, there are various shades available to suit different preferences and styles. Here are some different shades of pink car wraps:
1. Bubblegum Pink Car Wrap
A bright and vibrant pink reminiscent of classic bubblegum color.
2. Hot Pink Car Wrap
A bold and intense shade of pink that stands out and makes a statement.
3. Blush Pink Car Wrap
A soft and delicate pink with a touch of warmth and sophistication.
4. Rose Pink Car Wrap
A romantic and elegant pink with a hint of red undertones.
5. Salmon Pink Car Wrap
A muted pink with orange undertones, creating a unique and subtle look.
6. Fuchsia Pink Car Wrap
A deep and rich pink with purplish undertones, offering a luxurious feel.
7. Coral Pink Car Wrap
A mix of pink and orange, creating a lively and tropical appearance.
8. Baby Pink Car Wrap
A light and pastel pink, reminiscent of the color often associated with baby girls.
9. Dusty Pink Car Wrap
A muted and slightly grayish pink, perfect for a vintage or subtle look.
10. Magenta Pink Car Wrap
A vibrant and intense pink with a touch of purple, adding drama to the wrap.
11. Mauve Pink Car Wrap
A sophisticated and muted pink with a hint of gray, suitable for a more understated style.
12. Orchid Pink
A bright and playful pink with purple undertones, offering a unique and eye-catching look.
13. Raspberry Pink
A deep and intense pink with reddish undertones, exuding energy and confidence.
14. Cotton Candy Pink
A light and dreamy pink, reminiscent of the sweet treat it's named after.
15. Dusty Rose
A soft and muted pink with a touch of gray, combining elegance and subtlety.
These different shades of pink car wraps offer a wide range of choices for Audi owners to personalize and transform their vehicles to suit their individual tastes and preferences.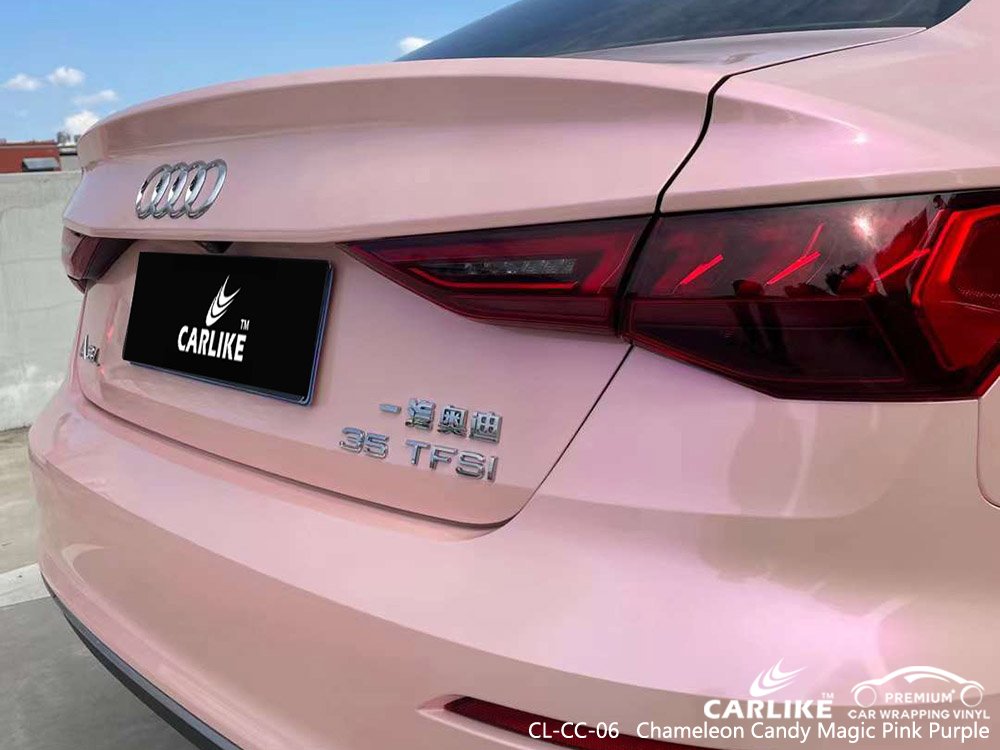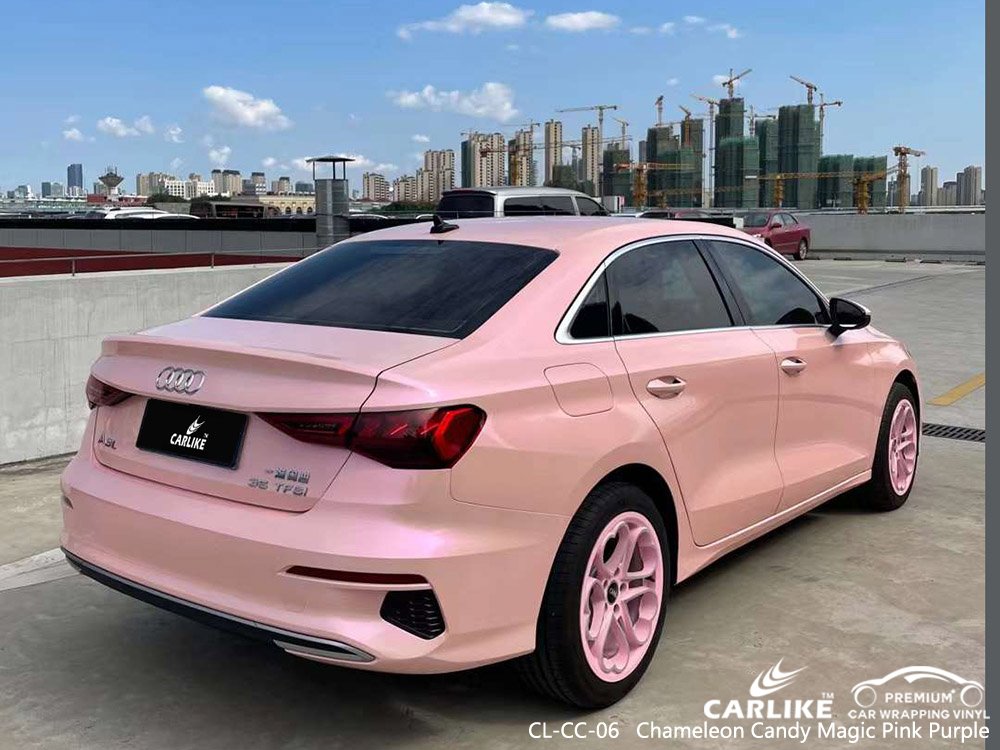 Top Tips for Maintaining and Cleaning Your Pink Car Wrap
Maintaining and cleaning your pink car wrap is essential to keep it looking vibrant and in good condition. Here are some top tips to help you take care of your pink car wrap:
1. Hand Wash Only
Avoid using automated car washes with brushes or harsh chemicals, as they can damage the wrap. Instead, hand wash your car using a soft sponge or microfiber cloth.
2. Use Mild Soap
Use a mild soap or specifically designed car wrap cleaning solution to clean the wrap. Avoid abrasive or wax-based products, as they can harm the vinyl.
3. Rinse Thoroughly
Before washing, rinse your car wrap thoroughly with water to remove loose dirt and debris. This helps prevent scratching during the washing process.
4. Clean Regularly
Clean your car wrap regularly, especially if you notice dirt, bird droppings, or other contaminants. Promptly remove any stains or spills to prevent them from becoming permanent.
5. Avoid High-Pressure Washing
If you choose to use a pressure washer, ensure it is set to a low pressure setting. Keep a safe distance from the car wrap to prevent damage.
6. Pat Dry
After washing, gently pat dry the wrap with a clean microfiber cloth to avoid scratching the surface. Do not rub vigorously.
7. Use a Second Bucket
When hand washing, use a separate bucket for the car wrap to avoid transferring dirt from the rest of the vehicle.
8. Waxing is Optional
Some vinyl wraps have a protective layer that makes them glossy, and applying wax is not necessary. Check with the manufacturer or installer if waxing is recommended for your specific wrap.
9. Avoid Abrasive Materials
Do not use abrasive pads, brushes, or scrubbing sponges on the wrap, as they can cause scratches and damage the finish.
10. Park in Shade
Whenever possible, park your car in a shaded area or use a car cover to protect the wrap from prolonged exposure to sunlight and UV rays.
11. Heat Gun for Difficult Stains
If you encounter stubborn stains, you can use a heat gun on low settings to gently warm the wrap and make it easier to clean.
12. Test First
If you're unsure about a cleaning product's compatibility with the wrap, test it on a small, inconspicuous area first to avoid potential damage.
Remember, proper maintenance and care will extend the life of your pink car wrap and keep it looking fabulous for years to come. Always follow the manufacturer's guidelines and consult with the installer for specific care instructions for your particular wrap.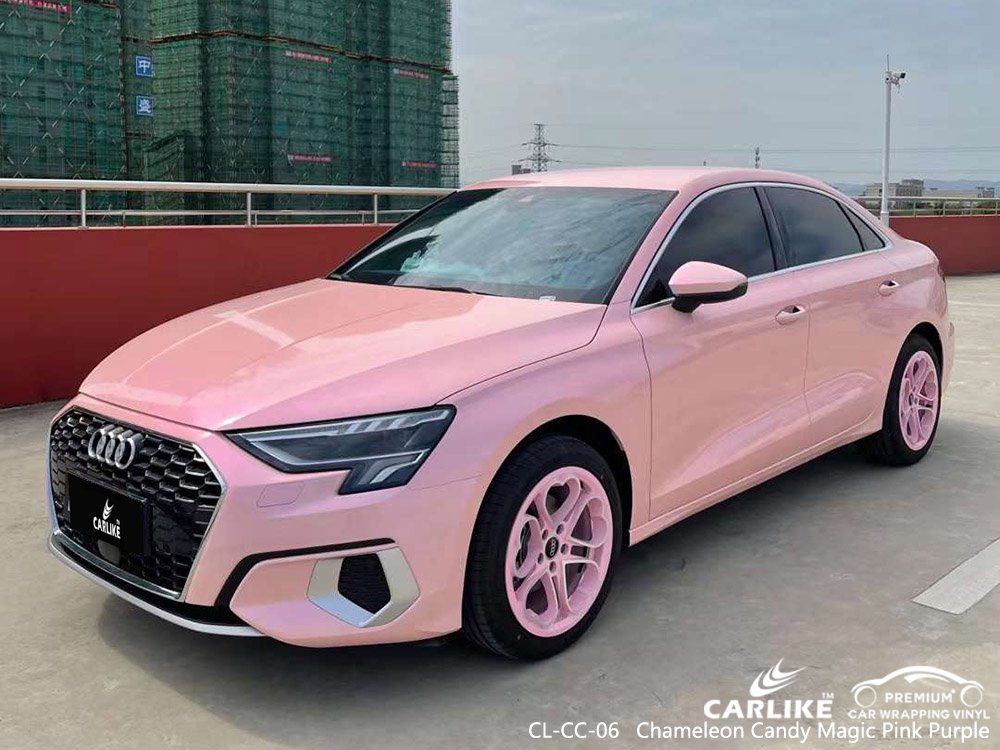 Final Words
In conclusion, embracing a pink car wrap for your beloved Audi not only adds a touch of boldness and personality to your ride but also offers practical benefits like paint protection and customization. The rising trend of pink car wraps among Audi enthusiasts showcases a desire for individuality and style on the roads. Remember to choose high-quality materials and professional installation to ensure a stunning and durable result. With proper maintenance and regular cleaning, your pink car wrap will continue to turn heads and preserve the allure of your Audi for years to come.