Advantages of Matte Silver Car Wrap Vinyl over Glossy Finishes
Here are some advantages of choosing matte silver car wrap vinyl over glossy finishes:
1. Subtle Elegance
Matte silver car wrap vinyl offers a sophisticated and refined appearance. It exudes a more understated and classy vibe compared to glossy finishes, which can be eye-catching but also more attention-grabbing.
2. Hides Imperfections
Matte finishes are excellent at concealing minor scratches, swirl marks, and other imperfections on the vehicle's surface. This makes it a great choice for older cars or those with some wear and tear.
3. Reduced Glare
Unlike glossy finishes that reflect light, matte silver car wrap vinyl reduces glare and minimizes reflections. This can be especially beneficial when driving in bright sunlight or under intense artificial lighting.
4. Unique Look
Matte finishes are less common than glossy ones, which can make your car stand out from the crowd. It gives your vehicle a distinctive and exclusive appearance that sets it apart from other cars on the road.
5. Hides Fingerprints and Smudges
Glossy finishes tend to show fingerprints and smudges easily, requiring regular cleaning to maintain their shine. In contrast, matte silver car wrap vinyl is more forgiving and doesn't show marks as prominently.
6. Easy Maintenance
Matte finishes are generally easier to maintain than glossy ones. They don't require constant polishing or waxing, saving you time and effort in keeping your car looking great.
7. Conceals Surface Defects
Matte finishes tend to hide surface defects and paint imperfections better than glossy ones. This can be beneficial if your car's original paint has minor flaws that you'd like to conceal.
8. Unique Customization Options
Matte silver car wrap vinyl can be easily combined with other vinyl colors or finishes for creative customizations. It allows for more artistic freedom in designing a personalized look for your vehicle.
9. Resale Value
While personal preferences vary, some car buyers find matte finishes appealing. If you plan to sell your car in the future, having a unique matte silver vinyl wrap might increase its desirability and potentially boost its resale value.
10. Versatile Aesthetic
Matte silver complements various car designs and colors, making it a versatile choice for different vehicle models. It can be paired with other colors and accents to create a cohesive and appealing aesthetic.
Remember that the choice between matte and glossy finishes ultimately comes down to personal preference and the desired look you want for your car. Both options have their merits, but matte silver car wrap vinyl offers a more subdued, refined, and distinctive appearance for car enthusiasts who appreciate its unique qualities.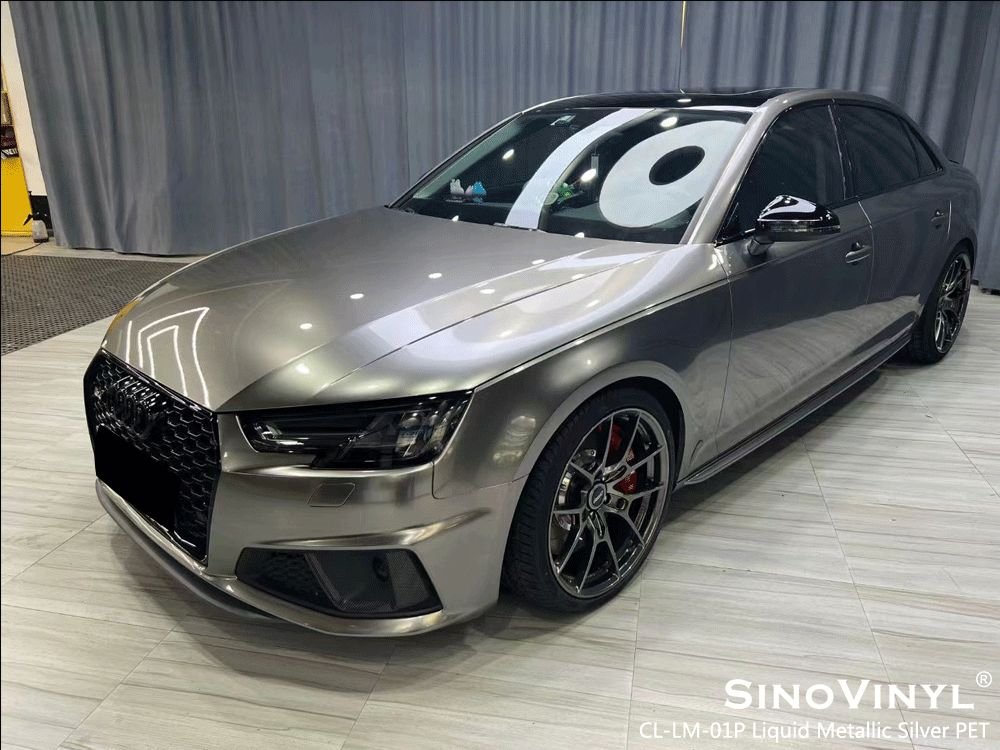 Step-by-Step Guide: Installing Matte Silver Car Wrap Vinyl on Your Vehicle
Installing matte silver car wrap vinyl on your vehicle can be a rewarding and satisfying DIY project, but it requires attention to detail and patience. Follow this step-by-step guide to ensure a smooth and professional-looking installation:
Materials Needed
– Matte silver car wrap vinyl
– Cleaning supplies (isopropyl alcohol, microfiber cloths)
– Squeegee or vinyl applicator tool
– Heat gun or hairdryer
– Utility knife or vinyl cutting tool
– Measuring tape
Step 1: Prepare Your Workspace
Choose a clean and dust-free area to work on your vehicle. It's best to work indoors or in a covered garage to avoid any debris or dirt sticking to the vinyl during installation. Ensure the temperature is above 60°F (15°C) for optimal adhesive performance.
Step 2: Clean Your Vehicle
Thoroughly clean the surface of your vehicle with soapy water to remove any dirt, grease, or wax. Rinse and dry the surface completely. Next, use isopropyl alcohol and a microfiber cloth to wipe down the area where you'll be applying the vinyl to remove any remaining residue.
Step 3: Measure and Cut the Vinyl
Carefully measure the sections of your vehicle you want to wrap with the matte silver vinyl. Add a few extra inches to each measurement to allow for trimming and adjustments. Use a utility knife or a vinyl cutting tool to cut the vinyl according to your measurements.
Step 4: Peel and Apply the Vinyl
Start by peeling back a small section of the vinyl's backing paper. Align the exposed edge with the corresponding area of your vehicle. Avoid touching the adhesive side of the vinyl to keep it clean and prevent fingerprints. Slowly lay down the vinyl on the surface, using a squeegee or applicator tool to smooth out any air bubbles and ensure a secure bond.
Step 5: Work in Sections
For larger areas, work in manageable sections to prevent the vinyl from sticking to itself or becoming misaligned. Peel back a few inches of the backing paper, apply the vinyl, and gradually move along the surface, smoothing it out as you go.
Step 6: Use Heat to Conform the Vinyl
As you apply the vinyl, use a heat gun or hairdryer on low heat to warm the material slightly. This helps the vinyl conform to curves and contours of your vehicle. Be cautious not to overheat the vinyl, as it may damage the material.
Step 7: Trim Excess Vinyl
Once you've covered the desired area, use the utility knife or vinyl cutting tool to trim off the excess vinyl carefully. Pay attention to edges and corners to achieve clean lines.
Step 8: Finlize
a
 the Installation
After all the vinyl is applied and trimmed, go over the entire surface with the squeegee to ensure a tight and smooth finish. Check for any remaining air bubbles and smooth them out with the squeegee.
Step 9: Allow the Vinyl to Settle
Let your vehicle sit for at least 24 hours to allow the vinyl adhesive to bond securely to the surface. Avoid washing or waxing the vehicle during this period.
Congratulations! You've successfully installed matte silver car wrap vinyl on your vehicle. With proper care and maintenance, your vehicle will showcase a sophisticated and unique look that stands out on the road.
Aesthetics and Elegance: How Matte Silver Vinyl Elevates Car Designs
Matte silver vinyl can truly elevate car designs in several ways, offering a unique and sophisticated look that sets vehicles apart from the crowd. Here are some key aspects in which matte silver vinyl wraps enhance car designs:
1. Elegant and Understated Aesthetics
Matte finishes exude a sense of elegance and refinement. The silver color adds a touch of luxury and class, making the vehicle appear sleek and stylish.
2. Subtle Reflections
Unlike glossy finishes that reflect light prominently, matte silver vinyl provides subtle reflections. This creates a smooth and even appearance, minimizing distractions and highlighting the vehicle's overall form.
3. Conceals Imperfections
Matte finishes can be more forgiving when it comes to hiding minor imperfections or surface scratches on the car's body, which can be particularly beneficial for older vehicles or those with wear and tear.
4. Modern and Trendy Appeal
Matte finishes have gained popularity among car enthusiasts due to their contemporary and fashionable appeal. They exude a sense of modernity, making the vehicle look up-to-date and in line with current design trends.
5. Unique Visual Identity
Applying matte silver vinyl to a car instantly transforms its visual identity. It's an unconventional choice that distinguishes the vehicle from the vast majority of glossy-finished cars on the road.
6. Customization Options
Matte silver vinyl wraps can be customized to fit the contours of any vehicle, including complex shapes and curves. This versatility allows for a seamless and professional-looking finish.
7. Enhances Body Lines and Details
Matte finishes tend to accentuate the body lines and design details of a vehicle. They bring out the unique shapes and features of the car, creating a more eye-catching appearance.
8. Complements Other Design Elements
Matte silver vinyl is versatile and complements a wide range of other design elements, such as carbon fiber accents, colored trims, or contrasting patterns, allowing for further customization possibilities.
9. Attention-Grabbing Without Being Flashy
Matte silver vinyl wraps can draw attention without being overly flashy or ostentatious. The subdued shine gives a sense of sophistication and elegance, making the vehicle stand out in a tasteful manner.
10. Resale Value
In some cases, a well-maintained matte silver vinyl wrap can preserve a car's resale value. Since it can protect the original paintwork from scratches and UV exposure, the vehicle's exterior may remain in better condition over time.
Overall, matte silver vinyl elevates car designs by providing a distinct and refined appearance, making it a popular choice for car enthusiasts who seek a unique, modern, and sophisticated look for their vehicles.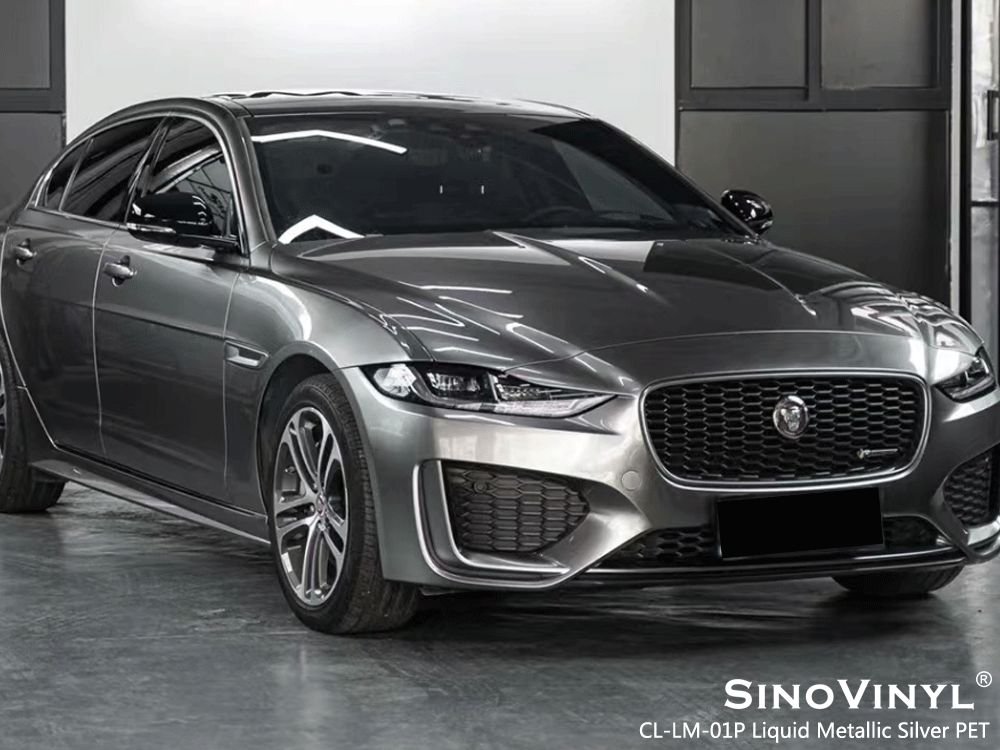 The Science Behind Matte Silver Car Wrap Vinyl: Materials and Composition
Matte silver car wrap vinyl is a unique and stylish alternative to traditional glossy finishes, but what makes it different from its shiny counterparts? The science behind matte silver car wrap vinyl lies in its materials and composition. Let's explore the key elements that make up this sophisticated car wrap:
1. Vinyl Polymer Base
The foundation of matte silver car wrap vinyl is a vinyl polymer. Vinyl is a synthetic material known for its flexibility, durability, and weather resistance. This polymer base provides the necessary properties for the vinyl to adhere to the car's surface and withstand various environmental conditions.
2. Matte Additives
To achieve the desired matte finish, specialized additives are incorporated into the vinyl polymer. These additives create a surface that scatters light rather than reflecting it, resulting in a non-glossy appearance. The reduction of light reflection reduces glare and creates a subdued, elegant look.
3. Pigments and Dyes
Matte silver car wrap vinyl requires specific pigments and dyes to achieve its silver color. These pigments are carefully selected to maintain the metallic sheen while still offering a matte appearance. The right combination of pigments ensures the color remains vibrant and long-lasting.
4. Adhesive Layer
A crucial aspect of car wrap vinyl is the adhesive layer that allows it to adhere securely to the vehicle's surface. The adhesive must be strong enough to hold the vinyl in place but also removable without damaging the underlying paint when the wrap is taken off.
5. Protective Coating
Matte silver car wrap vinyl typically includes a clear protective coating. This top layer serves as a shield against UV rays, scratches, and other potential damage, preserving the vinyl's color and finish over time.
6. Air Release Technology
Many modern matte silver car wrap vinyl products incorporate air release technology. This feature includes tiny channels or perforations in the adhesive layer, allowing trapped air bubbles to escape during installation. This minimizes the chances of unsightly bubbles and makes the application process smoother.
7. Heat Activated
Applying matte silver car wrap vinyl involves the use of heat during installation. Heat helps the vinyl conform to the vehicle's contours and enhances its flexibility, making it easier to work with and providing a seamless finish.
In conclusion, the science behind matte silver car wrap vinyl relies on a precise combination of materials, additives, pigments, and technology. The result is an eye-catching, sophisticated vinyl wrap that not only adds style to vehicles but also protects the underlying paintwork. Whether you're a car enthusiast or someone looking to elevate the appearance of your vehicle, matte silver car wrap vinyl offers a distinctive and elegant option.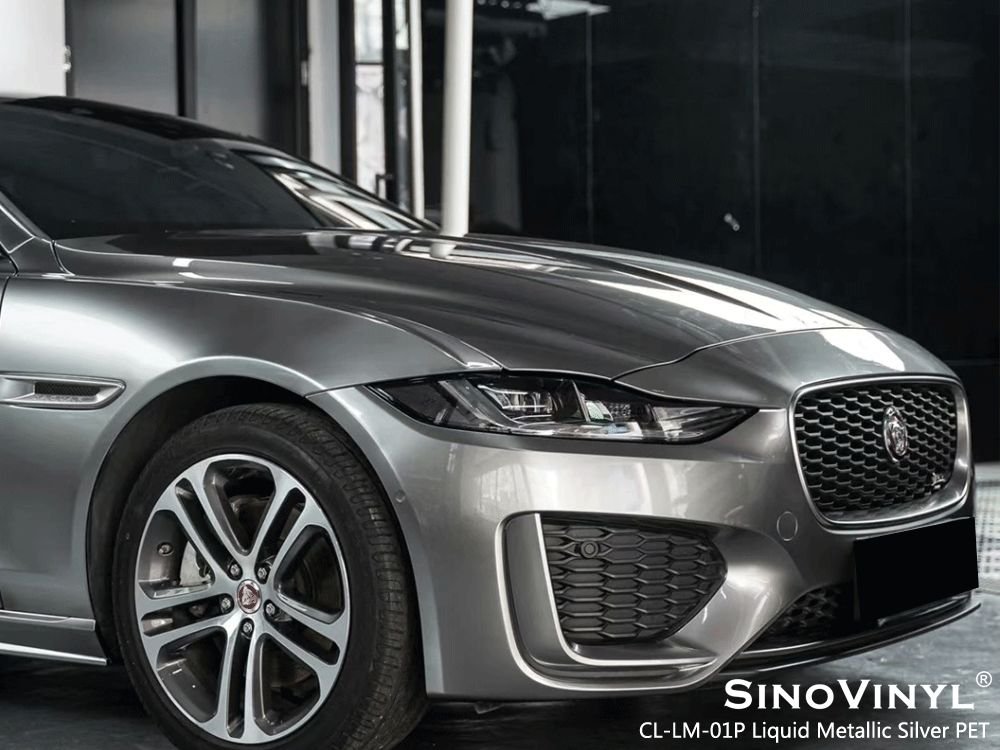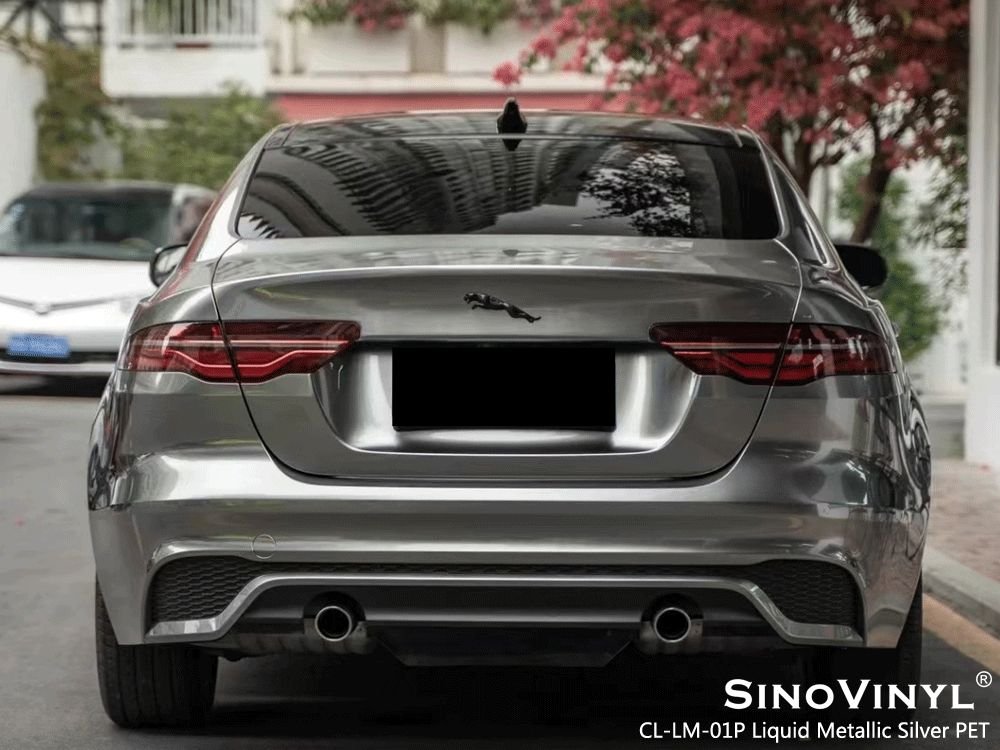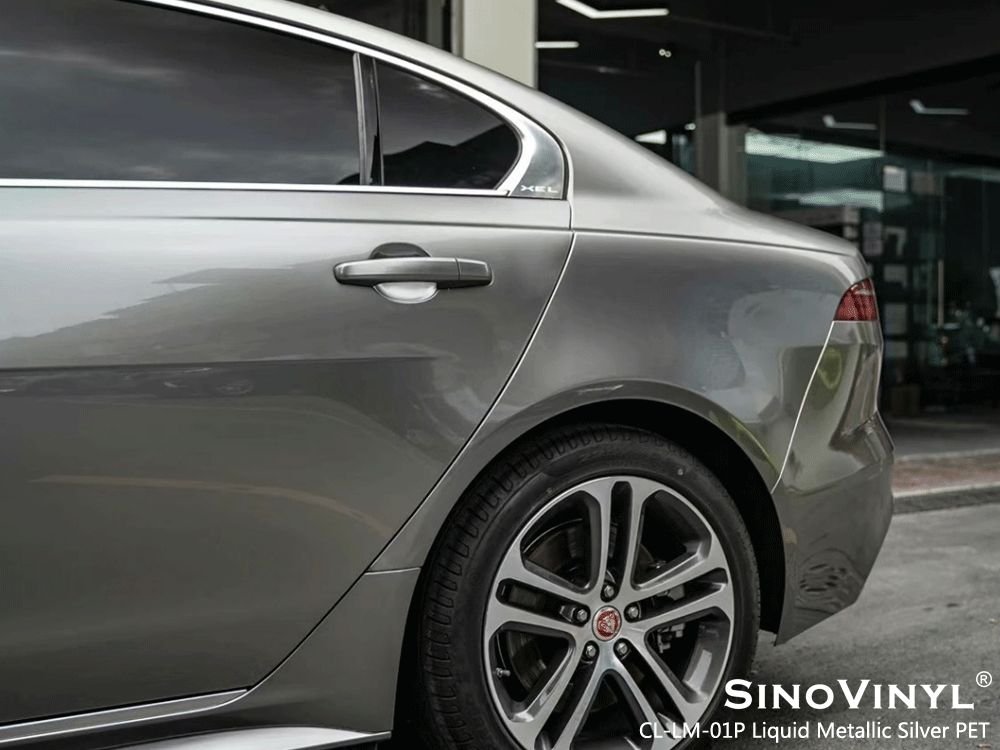 Final Words
In conclusion, venturing beyond the allure of glossy finishes, matte silver car wrap vinyl emerges as a captivating choice for car lovers seeking sophistication and distinction. Its unique non-reflective surface exudes elegance, making a powerful statement on the road. The science behind this remarkable vinyl lies in its carefully crafted materials and composition, ensuring durability, weather-resistance, and a long-lasting finish. Whether you're looking to transform your car's appearance, protect its paintwork, or stand out from the crowd, embracing matte silver car wrap vinyl opens up a world of possibilities. Embrace this understated yet striking trend, and elevate your ride to a realm of automotive sophistication that commands attention and admiration wherever you roam. Let your imagination run wild, and embark on a journey of automotive expression with the timeless allure of matte silver car wrap vinyl.