Are you looking for a way to make your car stand out from the rest and show off your unique style? Look no further than customizable camouflage car wraps! These wraps come in multiple colors and designs, allowing you to completely transform the look of your vehicle. In this article, we'll discuss everything you need to know about camouflage car wraps, from selecting the right design for your vehicle to proper installation and maintenance.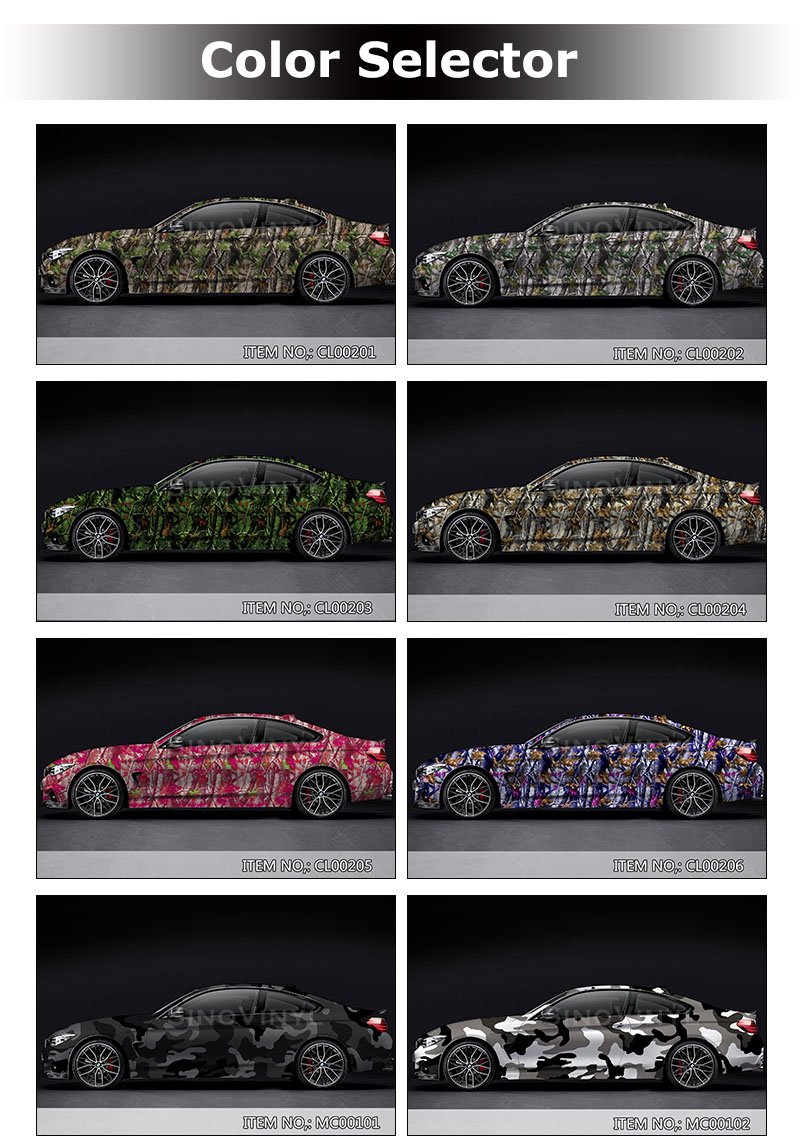 What are Camouflage Car Wraps?
A car wrap is a vinyl film that is applied to the exterior of a vehicle. Camouflage car wraps are unique in that they feature a camouflage design, which can be custom tailored to fit the specific needs and style of the vehicle owner. Vinyl car wraps protect the paint on the car while also serving as a distinctive and eye-catching design element. Benefits of using vinyl car wraps include a lower cost than a new paint job, easy installation, and the ability to change the design over time.
Choosing the Right Camouflage Wrap for Your Vehicle
When selecting a camouflage wrap design, it's important to take into account the make, model, and color of your vehicle. Some of the most popular color options for camouflage car wraps include green, brown, and black, but options like pink, blue, and other bright colors may be available depending on the manufacturer. It's important to choose a color that works well with your car's paint and also matches your personality and personal style preferences. Some popular options for customization include including personalized designs or logos.
Preparing Your Vehicle for a Camouflage Wrap
Proper preparation is essential before installing a camouflage car wrap. It's important to wash the vehicle thoroughly and remove any dirt, grime, or debris that may cause issues with the adhesive on the vinyl wrap. Any dents or scratches should be repaired prior to installation as they can cause the vinyl to lift, wrinkle, and peel over time. If you're unsure about how to properly prepare your vehicle, it's recommended to seek a professional for assistance.
Installing a Camouflage Car Wrap
There are two main options for installing a camouflage car wrap: DIY installation or hiring a professional installer. DIY installation requires patience, time, and attention to detail to ensure the wrap is applied without wrinkling or lifting. Alternatively, a professional installer will have all of the necessary tools and experience in order to ensure that the installation is done quickly and effectively. Paying attention to details is important in ensuring that the wrap lasts for as long as possible.
Maintaining Your Camouflage Car Wrap
Maintaining a camouflage car wrap is important to ensure its longevity. Basic maintenance includes washing the car regularly with a recommended solution, avoiding harsh chemicals that may damage the vinyl, and avoiding high-pressure car washes that may cause lifting or damage. It's also important to address any issues as soon as they arise. Proper care can ensure that the vinyl wrap will last for several years.
Frequently Asked Questions about Camouflage Car Wraps
Some common questions that people have include how long do car wraps last, will the wrap damage the paint on my car, and can I remove the wrap if I change my mind. A properly installed and maintained vinyl wrap can last up to ten years. The adhesive on the wrap will not damage the paint on your car, but it can cause issues if there are underlying issues with the paint. As for removal, it can be done relatively easily, and does not cause any harm to the original paint job.
Customizable camouflage car wraps offer a unique and affordable way to personalize your vehicle while also protecting the original paint job. By taking the time to properly select, install, and maintain your wrap, you can ensure that it will last for years to come and provide you with a stylish and unique ride.