If you are a new owner of a car customized with a Chrome Rainbow Car Wrap Vinyl, it's essential to understand how to care for your car. The Chrome Rainbow Vinyl is a unique and durable wrap. However, improper care can cause fading, peeling or cracking, which can compromise its appearance and ultimately, your safety. In this blog, we'll explore best practices for maintaining the perfect appearance of your chrome rainbow car sticker.
Regular Cleaning is Key
Cleaning your chrome rainbow car vinyl is critical in maintaining its look. The Chrome Rainbow Vinyl attracts and accumulates dirt, grime, and other debris. All of which can cause damage and dull its appearance. To maintain its lustrous look, you should clean your car wrap frequently with a soft sponge and mild soap.
Avoid Harsh Cleaning Agents
Make sure to avoid harsh chemicals when cleaning your chrome rainbow car wrap vinyl. Harsh chemicals such as abrasive cleaners, heavy duty degreasers, and solvent-based cleaners can ruin the color and finish of your vinyl wrap. Instead, use mild soap and plain water or ask your car wrapping professional for recommendations on cleaning solutions specifically designed for your car wrap.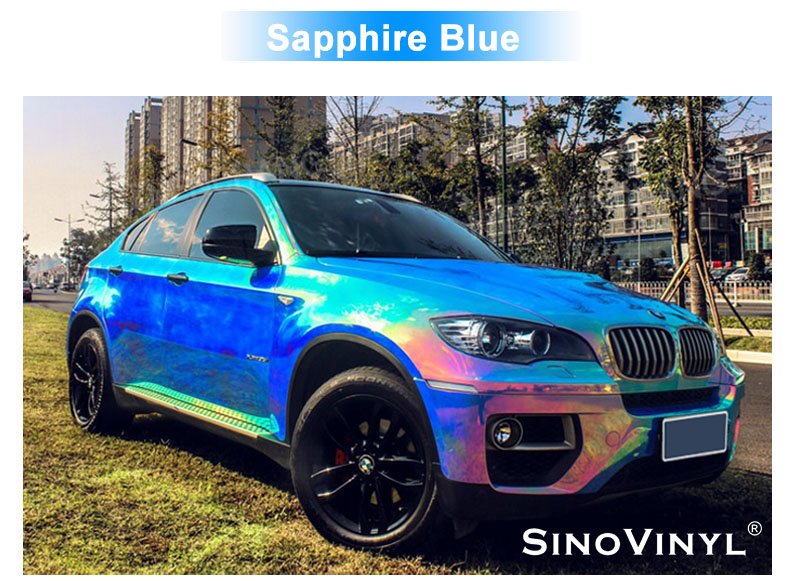 Protect your Car Wrap
Your chrome rainbow car wrap vinyl is durable, but it is not immune to scratches, chips, or small dents. Avoid parking near trees or in areas with heavy foot traffic, avoid driving too close to other vehicles. When washing the car, use a dedicated microfiber towel to prevent scratches. Consider investing in car bra or Paint Protection Film to keep your wrap protected.
Caring for your chrome rainbow car wrap vinyl is simple, and it requires just a little maintenance. Regularly cleaning with mild soap and plain water, avoiding harsh chemicals, and protecting it from scratches and chips will extend the life span of your vinyl car wrap. The care you give to your car wrap vinyl will pay off in the long run, as it will maintain its shine and vibrant colors, protecting the car's paintwork underneath. Remember, caring for your chrome rainbow vinyl not only prolongs its life span but also enhances the resale value of your car.