Different Types of Gray Car Wrap Materials Explained
There are several different types of gray car wrap materials available in the market. Each type offers unique characteristics and features. Here are some of the most common types of gray car wrap materials explained:
1. Vinyl Wraps
Vinyl wraps are the most popular and widely used car wrap materials. They come in various finishes, including matte, satin, gloss, and metallic. Vinyl wraps are durable, versatile, and can protect the car's original paint from minor scratches and UV damage.
2. Avery Dennison Supreme Wrapping Film
Avery Dennison is another reputable brand in the car wrapping industry. Their Supreme Wrapping Film offers exceptional quality, color consistency, and durability. It is available in a range of gray shades to suit various preferences.
3. 3D Carbon Fiber Wraps
3D carbon fiber wraps add a textured, three-dimensional appearance to your vehicle. These wraps have a distinct look and are often chosen by car enthusiasts who want a more aggressive and sporty style.
4. Satin Chrome Wraps
Satin chrome wraps provide a sleek and sophisticated appearance with a muted sheen. They have a smooth, metallic finish that reflects light differently from traditional gloss wraps, making them stand out subtly.
5. Brushed Metal Wraps
These wraps mimic the appearance of brushed metal, offering a unique, industrial look. They add depth and texture to the car's surface, creating an eye-catching effect.
6. Matte Metallic Wraps
Matte metallic wraps combine the features of matte and metallic finishes. They have a non-glossy surface with a metallic hue, resulting in a stylish yet understated look.
7. Color-Shift Wraps
Color-shift wraps, also known as chameleon wraps, change color depending on the viewing angle and lighting conditions. They provide an iridescent effect, transitioning between different shades of gray and other colors.
8. Gloss Glitter Wraps
These wraps incorporate glitter particles into the glossy finish, creating a sparkling effect when exposed to light. They offer a dazzling and attention-grabbing appearance.
9. Pearlescent Wraps
Pearlescent wraps have a pearlescent sheen, adding a subtle, pearly luster to the gray color. They are ideal for those seeking a refined and elegant look.
When choosing a gray car wrap material, consider factors such as the desired finish, durability, ease of installation, and overall cost. It's essential to select a high-quality material that suits your preferences and matches your vehicle's style.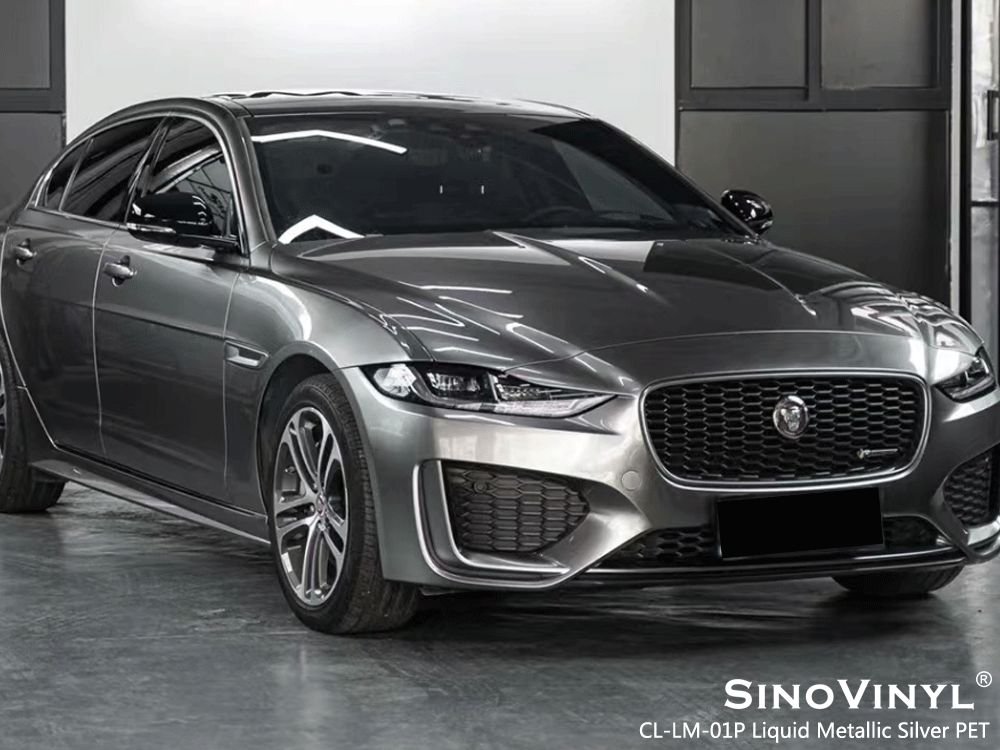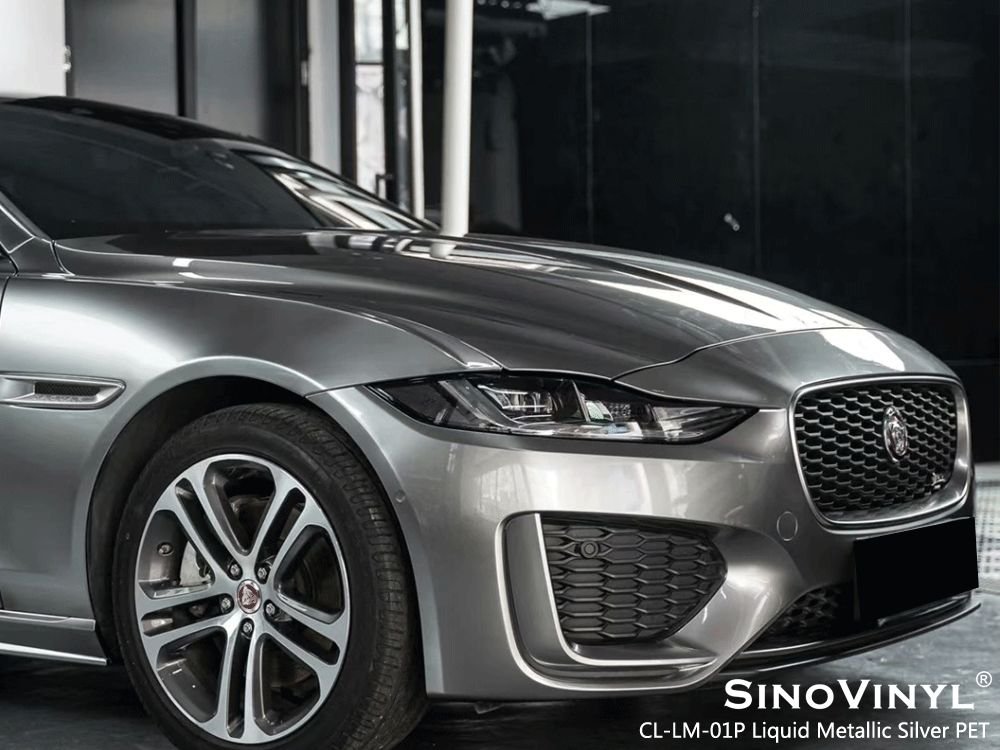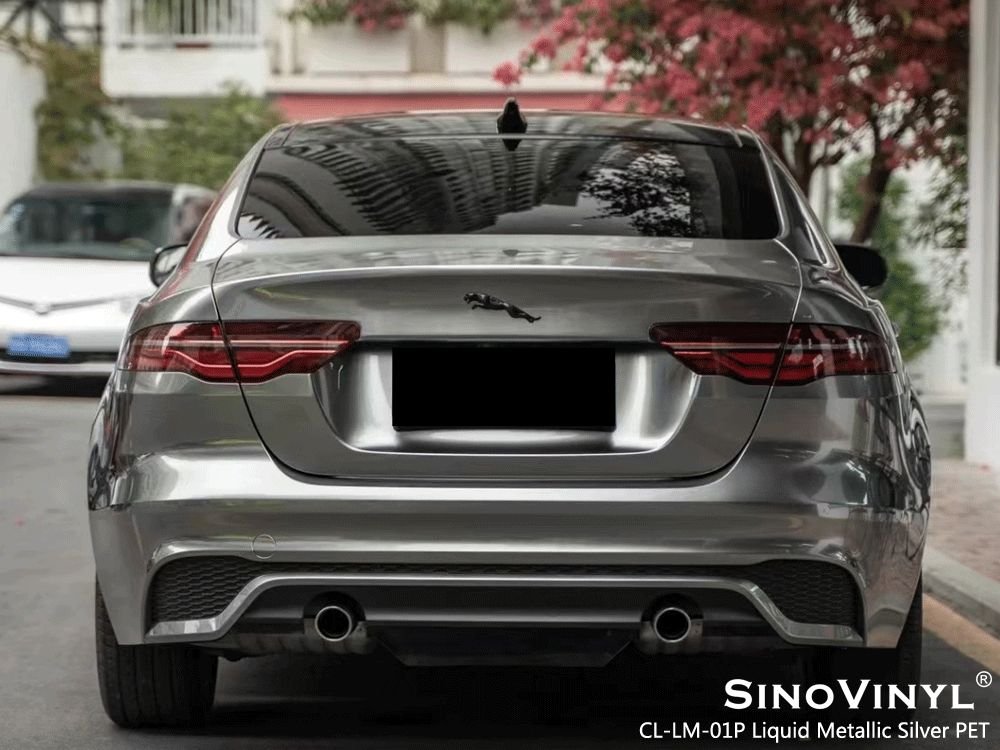 Maintaining Your Gray Car Wrap: Tips for Longevity
Maintaining your gray car wrap properly is crucial for preserving its appearance and longevity. Here are some tips to help you take care of your gray car wrap:
1. Regular Cleaning
Wash your car wrap regularly using a gentle automotive soap and clean water. Avoid harsh chemicals, abrasive scrubbing tools, and automatic car washes with brushes, as they can damage the wrap.
2. Handwashing Technique
When handwashing, use a soft microfiber cloth or a sponge to gently clean the surface. Start from the top and work your way down to prevent dirt from running over the cleaned areas.
3. Avoid Hot Water and Direct Sunlight
Wash your car wrap with cool or lukewarm water, especially in hot weather. Avoid leaving the vehicle in direct sunlight for extended periods, as excessive heat can degrade the wrap's adhesive.
4. Dry with Care
After washing, use a clean microfiber cloth to pat the car wrap dry gently. Avoid rubbing vigorously, as it may cause scratches or damage.
5. Protect from Scratches
Be cautious when parking near bushes, tree branches, or other abrasive surfaces. Light scratches may occur on the wrap's surface over time, affecting its appearance.
6. Use a Sealant or Wax
Apply a high-quality wax or sealant specifically designed for car wraps. This can add an extra layer of protection and enhance the wrap's shine.
7. Avoid Gasoline and Solvents
If you accidentally spill gasoline or solvents on the wrap, rinse it off immediately with clean water. Prolonged exposure to these substances can cause damage.
8. Avoid Pressure Washing
Refrain from using high-pressure water to clean the wrap. The force may cause the edges to lift or damage the wrap's surface.
9. Be Careful with Parking Garages
If you frequently park in garages with low ceilings or tight spaces, be cautious to avoid scraping the roof or sides of your vehicle against the walls or ceilings.
10. Remove Stains Promptly
Address any stains or bird droppings on the wrap promptly. The longer they sit on the surface, the more difficult they may be to remove without causing damage.
11. Winter Precautions
During cold weather, avoid using ice scrapers on the wrap. Instead, use a car defroster to melt the ice gently.
12. Avoid Magnetic Signs
Don't place magnetic signs or stickers directly onto the wrap, as they can cause discoloration or damage over time.
13. Inspect Regularly
Periodically inspect your car wrap for any signs of wear, peeling, or damage. Address any issues immediately to prevent further deterioration.
By following these maintenance tips, you can extend the life of your gray car wrap and keep it looking vibrant and fresh for years to come.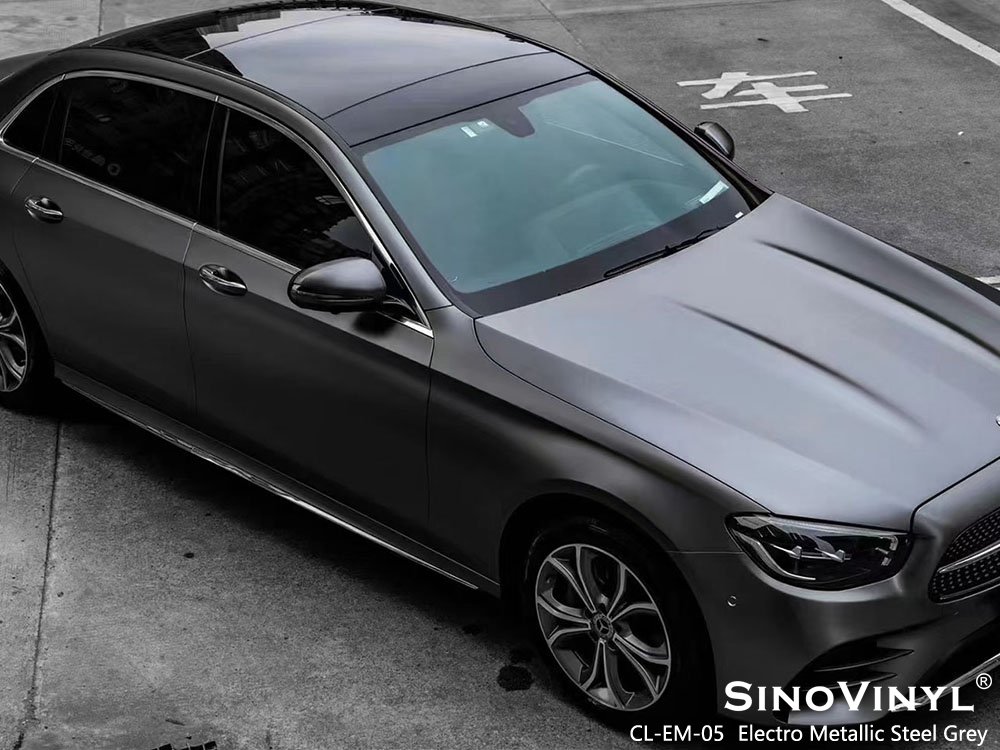 How Much Does a Gray Car Wrap Cost? Budgeting Tips
The cost of a gray car wrap can vary depending on several factors, including the size of the vehicle, the type of material used, the complexity of the design, and the expertise of the installation professional. Here's a breakdown of these factors that contribute to the overall cost of a gray car wrap:
1. Vehicle Size
The larger the vehicle, the more material is required to wrap it fully. Consequently, larger vehicles like SUVs, vans, and trucks generally cost more to wrap compared to smaller cars.
2. Material Type
Car wraps can be made from various materials, each with its own price range. High-quality vinyl wraps tend to be more expensive but offer better durability and longevity. The cost may also depend on whether you choose a solid color gray wrap or a special finish like matte or metallic.
3. Design Complexity
If you opt for a simple solid gray color wrap, it will generally cost less than a custom-designed wrap with intricate patterns, logos, or graphics. Custom designs often require more time and effort to create and install, which can increase the overall cost.
4. Professional Installation
Hiring a skilled and experienced professional to install the car wrap ensures a smooth and flawless finish. While this may add to the cost, it's worth investing in professional installation to avoid potential issues and ensure the wrap's longevity.
5. Additional Services
Some car wrap shops may offer additional services like paint protection film (PPF) application, which can protect the vehicle's paint underneath the wrap. These extra services can also influence the overall cost.
6. Location
The cost of car wraps can vary depending on your geographic location and local market conditions. Urban areas and regions with higher living costs may have slightly higher prices.
Given these factors, it's challenging to provide an exact cost without knowing the specific details of the vehicle and the type of gray car wrap you're interested in. As a rough estimate, a high-quality gray car wrap for a standard-sized sedan can range from a few hundred to a few thousand dollars. For larger vehicles or custom-designed wraps, the cost can increase significantly.
It's essential to do your research, obtain quotes from reputable car wrap providers, and consider the value and benefits a car wrap can offer in terms of protecting your vehicle's original paint, enhancing its appearance, and potentially increasing its resale value.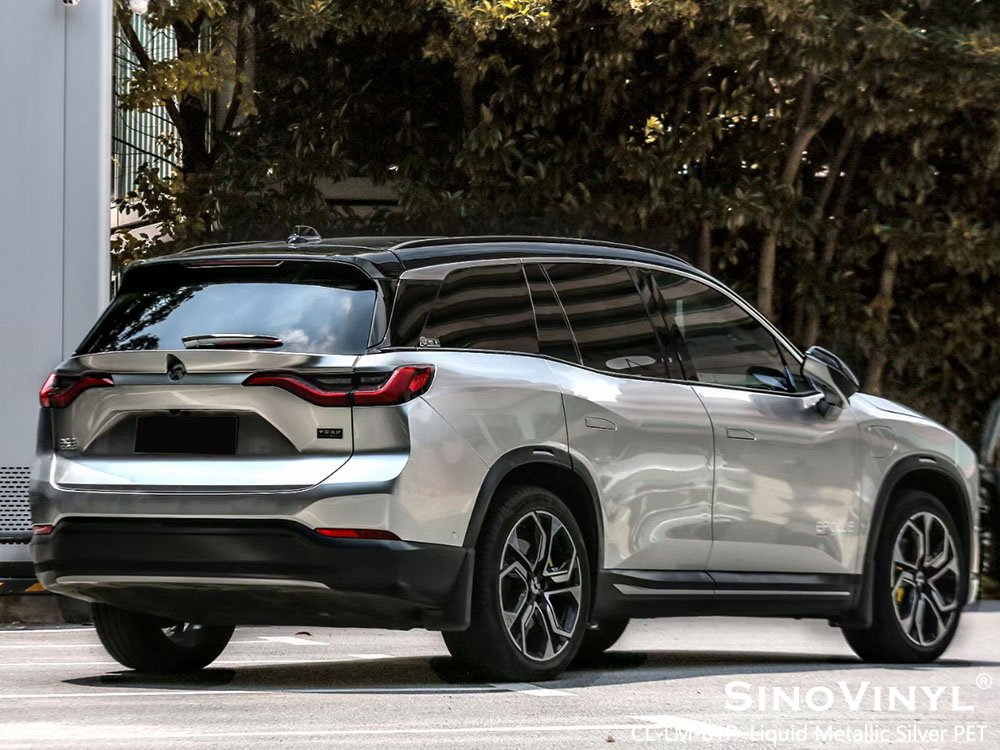 Removing a Gray Car Wrap: Do's and Don'ts
When it comes to removing a gray car wrap, following the right Do's and avoiding the Don'ts will ensure a smooth and damage-free process. Here are some important tips:
Do's:
1. Do use heat
Use a heat gun or a handheld steamer to warm up the vinyl before peeling it off. Heat softens the adhesive, making it easier to remove the wrap without damaging the paint.
2. Do start from the edges
Begin peeling off the gray car wrap from the edges or corners. This helps prevent accidental paint damage and allows you to have better control during the removal process.
3. Do peel gently
Take your time and peel the vinyl off slowly and steadily. Avoid pulling too forcefully, as it may cause the vinyl to tear or leave adhesive residue.
4. Do clean the surface
After removing the car wrap, clean the surface thoroughly to remove any adhesive residue or dirt. Use a gentle adhesive remover or isopropyl alcohol on a microfiber cloth to ensure a clean finish.
5. Do seek professional help if unsure
If you're uncertain about the removal process or worried about damaging your car's paint, it's best to consult a professional car wrap installer to handle the removal for you.
Don'ts:
1. Don't use sharp objects
Avoid using sharp tools or blades to remove the car wrap. These can easily scratch or damage the paint underneath, leading to costly repairs.
2. Don't rush the process
Patience is key when removing a car wrap. Rushing the removal can lead to mistakes and potential damage to the vehicle's surface.
3. Don't remove a cold wrap
Attempting to remove a car wrap in cold weather can make the vinyl brittle and more likely to tear. Ensure the vinyl is warmed up properly before starting the removal process.
4. Don't use harsh chemicals
Refrain from using strong chemical solvents, as they can damage the paint or clear coat of the car.
5. Don't ignore residue
If there is any adhesive residue left on the car after the wrap is removed, make sure to clean it off thoroughly. Lingering adhesive can be unsightly and may cause issues if you decide to apply a new car wrap or paint in the future.
By following these Do's and avoiding the Don'ts, you can successfully remove a gray car wrap without harming your vehicle's paint and prepare it for a fresh new look if desired.
Final Words
In conclusion, Gray Car Wraps offer car owners a versatile and stylish way to transform their vehicles' appearance. From the subtle elegance to the bold statement, these wraps provide a wide range of customization options to suit every taste. Whether you're looking to protect your car's original paint, rebrand a business fleet, or simply stand out from the crowd, a gray car wrap can be the perfect solution. Remember to choose the right materials, consider professional installation for a flawless finish, and maintain the wrap properly to prolong its lifespan. With this ultimate guide, you are now equipped with the knowledge to make informed decisions and embark on your gray car wrap journey with confidence. Embrace the power of gray, elevate your ride, and showcase your unique style as you hit the road with pride and distinction. Happy wrapping!