When it comes to personalizing your vehicle and making a statement on the road, there's no better way than through vinyl wrapping. Among the myriad options available, Chrome Mirror Metallic auto vinyl wrapping sticker stands out as a choice that not only turns heads but also offers durability and protection for your vehicle's finish. In this article, we will explore the world of Chrome Mirror Metallic vinyl wrapping and discover why it has become a popular choice among car enthusiasts.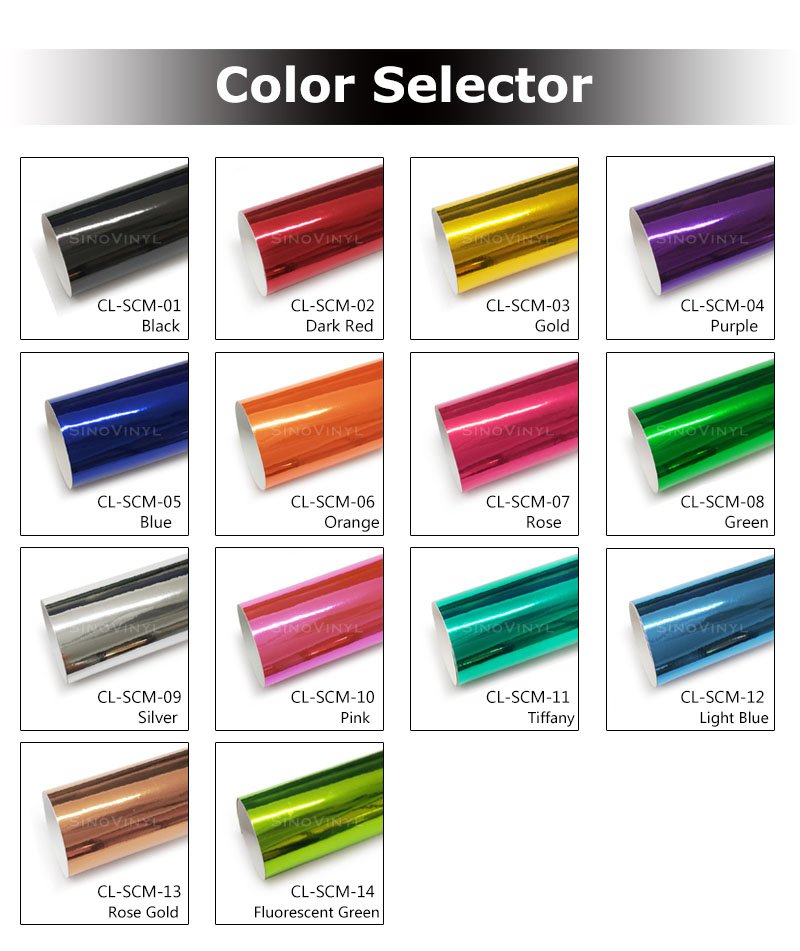 Unleash Your Creative Side
One of the most exciting aspects of vinyl wrapping is the ability to transform your vehicle into a unique masterpiece. Chrome Mirror Metallic vinyl is the epitome of automotive customization, providing a high-gloss, mirror-like finish that catches the eye from every angle. Whether you want to give your car a futuristic look or add a touch of luxury, Chrome Mirror Metallic wraps offer an array of vibrant colors and styles to choose from.
Durable and Protective
Beyond aesthetics, Chrome Mirror Metallic vinyl wrapping stickers offer practical benefits as well. They act as a protective shield for your vehicle's original paint, shielding it from minor scratches, stone chips, and UV radiation. This protective layer can significantly extend the life of your car's exterior finish, preserving its resale value.
Furthermore, the durability of Chrome Mirror Metallic vinyl ensures that your investment in customization will last for years. Unlike paint, which can chip or fade over time, vinyl wraps maintain their vibrant colors and glossy finish, even in harsh weather conditions.
Easy Maintenance
Maintaining a Chrome Mirror Metallic vinyl wrap is a breeze compared to traditional automotive paint jobs. Regular cleaning with a mild soap and water solution is all that's needed to keep your vehicle looking as good as new. The vinyl material is highly resistant to dirt, stains, and water, making it a practical choice for those who want both style and convenience.
Affordable Customization
While a custom paint job can cost a small fortune, Chrome Mirror Metallic auto vinyl wrapping stickers provide an affordable alternative that doesn't compromise on quality. The installation process is relatively quick, minimizing downtime for your vehicle. Additionally, if you ever decide to change the look of your car or return it to its original state, vinyl wraps can be removed without damaging the underlying paint.
Limitless Design Possibilities
Whether you have a specific design in mind or are looking for inspiration, the possibilities with Chrome Mirror Metallic vinyl are virtually limitless. From sleek monochromatic finishes to intricate graphics and patterns, you can work with a professional vinyl wrap installer to bring your vision to life. This level of customization allows you to stand out in the crowd and express your individuality through your vehicle.
Conclusion
Chrome Mirror Metallic auto vinyl wrapping stickers offer a remarkable combination of style, durability, and protection for your vehicle. Whether you're looking to turn heads on the road or protect your car's original paint, this innovative customization option has you covered. With easy maintenance and limitless design possibilities, it's no wonder that Chrome Mirror Metallic vinyl wraps have become a go-to choice for car enthusiasts seeking a unique and eye-catching look for their rides. So, why settle for ordinary when you can make your vehicle extraordinary with Chrome Mirror Metallic vinyl wrapping? Elevate your ride and hit the road in style!