Popular Chameleon Wrap Color Combinations for Stunning Effects
Popular chameleon wrap color combinations offer stunning effects that captivate the eyes and elevate the appearance of cars. Chameleon wraps, also known as color-changing wraps or iridescent wraps, are unique vinyl films that display a mesmerizing shift in color when viewed from different angles. They create an illusion of multiple colors blending together, resembling the vibrant hues of a chameleon's skin, hence the name.
Here's an explanation of some popular chameleon wrap color combinations and the stunning effects they can produce:
1. Blue to Purple
This classic combination transitions from deep, rich blue to royal purple, delivering a sense of elegance and luxury. The color shift can make the car appear regal and enchanting, catching attention wherever it goes.
2. Green to Gold
With green symbolizing nature and growth and gold representing opulence, this combination exudes a unique balance of earthiness and sophistication. The color shift from green to gold adds a touch of prestige and allure to the vehicle.
3. Red to Copper
This fiery combination transitions from bright red to a warm copper tone, creating a captivating and energetic presence. It gives the car a dynamic and vibrant personality, making it stand out from the crowd.
4. Silver to Blue
The seamless transition from silver to blue creates a futuristic and sleek appearance. This combination can give the car a modern and high-tech vibe, perfect for those looking to make a statement on the road.
5. Pink to Purple
For those seeking a more whimsical and playful look, the pink to purple combination delivers just that. The subtle shift from a soft pink to a deep purple adds a touch of fun and femininity to the vehicle.
6. Gold to Orange
A blend of gold and orange exudes warmth and radiance. This combination is often favored by those who want their cars to radiate positivity and energy.
7. Teal to Purple
Combining a calming teal with an enchanting purple, this combination brings a sense of mystery and serenity to the car. It's a popular choice for individuals who want a unique and soothing appearance.
8. Black to Green
This combination adds an element of mystery and allure, transitioning from a dark black to a deep, mesmerizing green. It's perfect for those seeking a touch of intrigue and sophistication.
The beauty of chameleon wraps lies in their ability to create ever-changing colors, depending on the viewing angle and lighting conditions. These popular color combinations are just a glimpse of the endless possibilities that chameleon wraps offer for customized cars. Whether you prefer a bold and vibrant look or a subtle and sophisticated style, chameleon wraps can help you achieve stunning effects that reflect your personality and make your car truly one-of-a-kind.
Customizing Your Car's Appearance with Chameleon Wraps: Dos and Don'ts
Here are some Dos and Don'ts to keep in mind when customizing your car's appearance with chameleon wraps:
Dos
1. Do Choose Quality Wraps
Invest in high-quality chameleon wraps from reputable brands to ensure a long-lasting and impressive result.
2. Do Work with Professionals
If you're not experienced in applying car wraps, seek the help of professional installers who have expertise in handling chameleon wraps.
3. Do Clean and Prepare the Surface
Before applying the chameleon wrap, make sure your car's surface is thoroughly cleaned, free from dirt, wax, or contaminants.
4. Do Use Proper Tools
Utilize appropriate tools like a squeegee and heat gun during the application process to achieve a smooth and seamless finish.
5. Do Store Your Car Properly
If possible, park your wrapped car in a covered area to protect it from prolonged exposure to harsh elements like sunlight, rain, and extreme temperatures.
6. Do Regular Maintenance
Wash your chameleon-wrapped car regularly using mild soap and water to keep it clean and maintain its vibrant colors.
7. Do Check Local Regulations
Ensure that chameleon wraps are legal in your area and comply with any local laws regarding vehicle modifications.
Don'ts
1. Don't Rush the Installation
Take your time during the application process to avoid mistakes and ensure the wrap adheres properly to the car's surface.
2. Don't Overstretch the Vinyl
Avoid overstretching the chameleon wrap, as it can lead to premature wear and an uneven appearance.
3. Don't Use Harsh Chemicals
Refrain from using harsh chemicals or abrasive materials during cleaning, as they can damage the chameleon wrap's surface.
4. Don't Ignore Maintenance
Neglecting regular maintenance can cause the chameleon wrap to lose its luster and durability over time.
5. Don't Apply Wraps Over Damaged Paint
Ensure your car's original paint is in good condition before applying the wrap; otherwise, imperfections may be visible through the wrap.
6. Don't Cut on the Car Surface
Avoid cutting the chameleon wrap directly on the car surface to prevent accidental scratches or damages.
7. Don't Assume It's Permanent
Keep in mind that chameleon wraps are removable, so if you want to change the design, it can be replaced without damaging the car's original paint.
By following these Dos and Don'ts, you can enjoy a successful and eye-catching customization using chameleon wraps for your beloved car.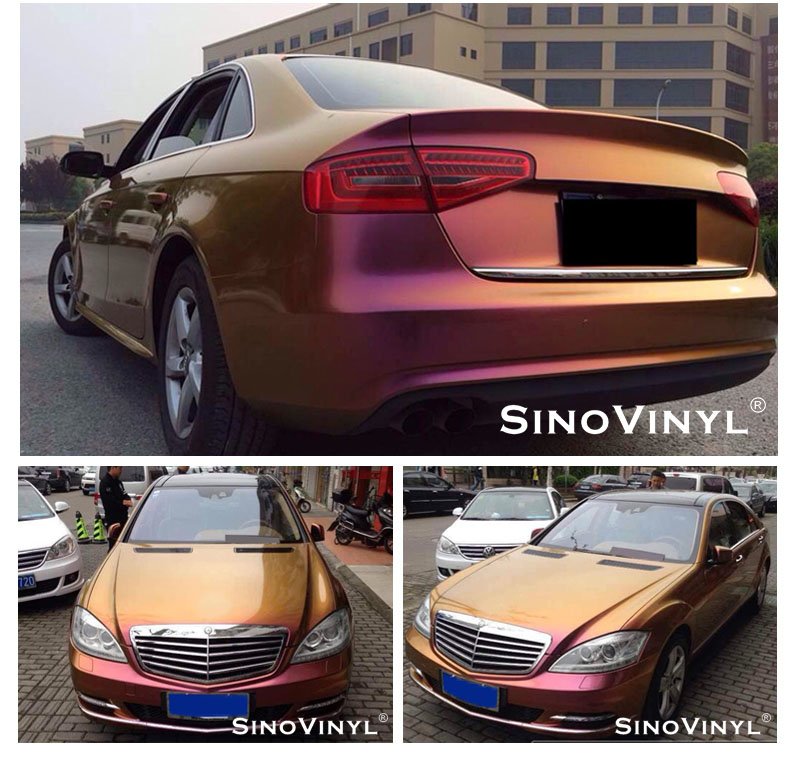 You May Interest
https://carlikewrap.com/collections/chameleon-wraps