Chameleon Electro Metallic Car Body Vinyl Wrapping Film Supplier
Here's key features and benefits of Chameleon Electro Metallic Car Body Vinyl Wrapping Film:
1. Color-Shifting Effect
Chameleon Electro Metallic Vinyl Wrapping Film is characterized by its ability to change colors depending on the angle of view and the lighting.
2. Easy Application and Removal
Chameleon Electro Metallic Vinyl Wraps are designed for relatively straightforward installation by professionals with experience in vehicle wrapping. Furthermore, when it's time for a change or if you want to revert to the original paint, the wrap can be safely removed without damaging the car's finish.
3. Customization and Personalization
Car enthusiasts and businesses often choose Chameleon Electro Metallic Vinyl Wrapping Film to give their vehicles a distinctive and personalized appearance.
4. Cost-Effective Alternative to Paint
Vehicle wrapping with Chameleon Electro Metallic Vinyl Film offers a cost-effective alternative to traditional custom paint jobs. It allows for customization without the high cost and long downtime associated with repainting a vehicle.
5. Marketing and Branding
Businesses and advertisers can take advantage of Chameleon Electro Metallic Vinyl Wrapping Film to promote their brand or products. Wrapping company vehicles with branded chameleon wraps can turn them into eye-catching mobile advertisements.
6. Range of Colors
Chameleon Electro Metallic Wrapping Film is available in a variety of color options, ranging from subtle shifts to more dramatic transitions.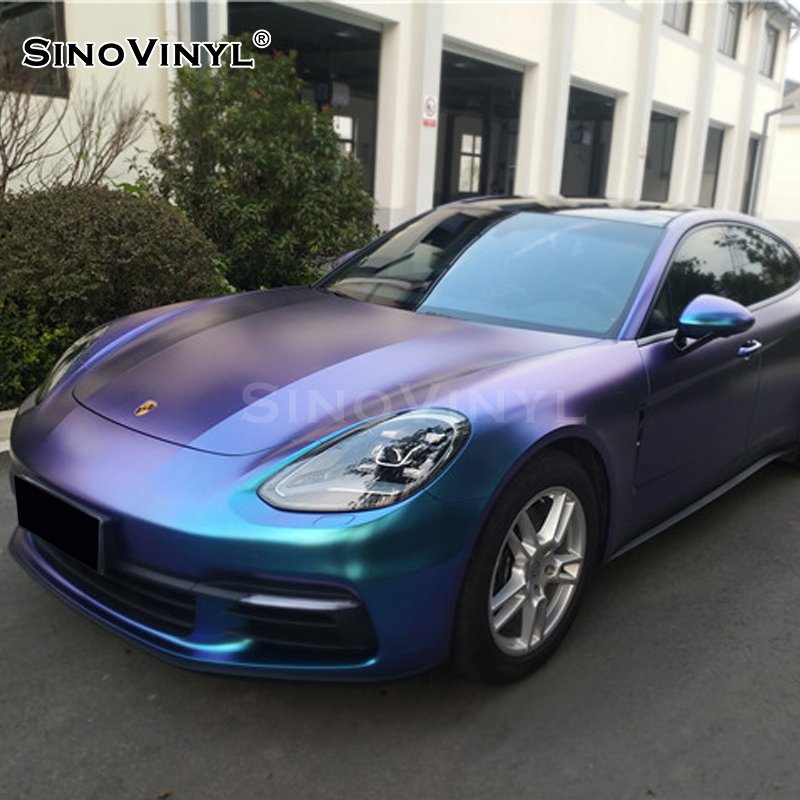 Iridescence Laser Glitter Rainbow Colorful Car Color Change Vinyl Sticker Manufacturer
Iridescence Laser Glitter Rainbow Colorful Car Color Change Vinyl is a specialized type of vinyl wrap designed to give vehicles a unique and captivating appearance by creating a dynamic and shifting play of colors.
Here's an explanation of each element in the product name:
1. Laser Glitter
Laser glitter typically refers to a fine and reflective material that adds a sparkling and shimmering effect to surfaces. In the context of the vinyl wrap, laser glitter elements enhance the overall visual appeal and contribute to the dazzling appearance of the car.
2. Rainbow Colorful
This term suggests that the vinyl wrap incorporates a wide spectrum of colors, often resembling the colors of a rainbow.
3. Car Color Change Vinyl
This specifies that the vinyl wrap is intended for application on cars and is capable of altering the vehicle's original color.
This type of vinyl wrap is often chosen by car enthusiasts and owners who want a unique and personalized aesthetic for their vehicles. 
Chameleon Color Changing Car Wraps Vinyl Film for Sale
This type of vinyl film is engineered with special pigments that create a shifting or iridescent effect, similar to the way a chameleon changes color to blend into its surroundings.
Key features and characteristics of chameleon color-changing car wrap vinyl film include:
1. Color Shifting
Chameleon wraps exhibit a color-changing effect as the viewing angle changes.
2. Iridescent Effect
The vinyl film's pigments are designed to reflect and refract light, producing a dynamic and iridescent appearance that adds depth and dimension to the vehicle's surface.
3. Variety of Colors
Chameleon wraps often feature a combination of colors, allowing the vehicle to exhibit a spectrum of hues as it catches different light sources.
4. Protective Layer
In addition to their aesthetic appeal, chameleon wraps also offer a layer of protection to the underlying paint.
5. Application Process
Applying a chameleon color-changing wrap requires expertise in car wrapping techniques.
6. Removability
Chameleon wraps are generally removable, making it possible to revert the vehicle to its original appearance or replace the wrap with a different design if desired.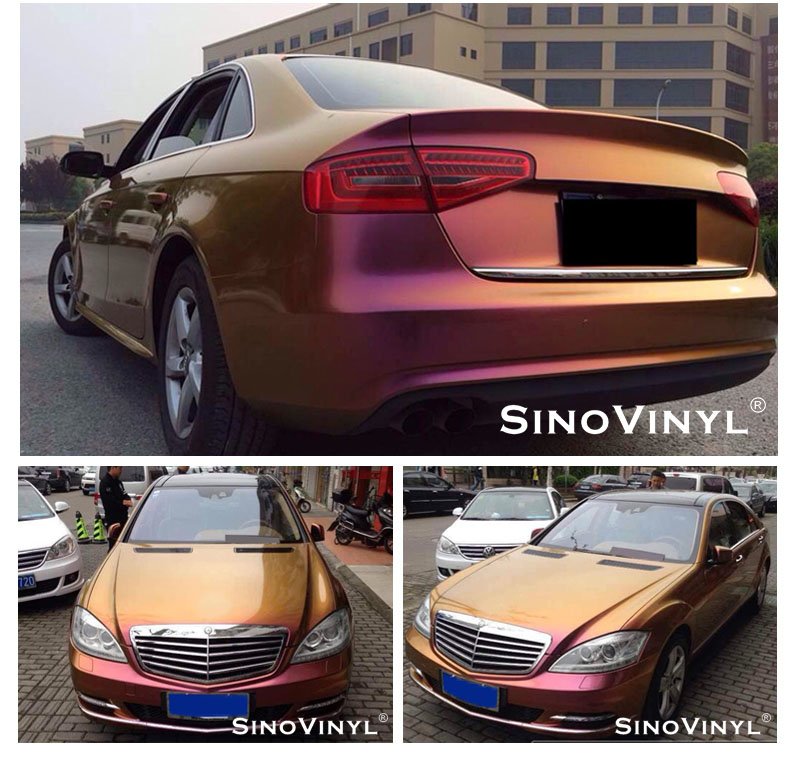 Contact Us