Exploring Different Camo Car Wrap Designs: Which One Suits Your Style?
When it comes to camo car wrap designs, there are numerous options available to suit different styles and preferences. Here are some popular camo car wrap designs that you can consider for your car:
1. Classic Woodland Camo Car Wrap
The traditional green, brown, and black camo pattern that is reminiscent of military camouflage.
2. Digital Camo Car Wrap
A modern take on camo with pixelated patterns, often featuring various colors like gray, black, and white.
3. Arctic Camo
A camo design with light colors like white, light gray, and pale blue, suitable for snowy and winter-themed aesthetics.
4. Desert Camo
Inspired by desert landscapes, this design features light brown, sandy beige, and khaki colors.
5. Urban Camo Car Wrap
A combination of gray, black, and white, mimicking the textures and patterns found in urban environments.
6. Pink Camo
A popular choice for those seeking a feminine touch, featuring pink and other soft colors.
7. Blue Camo
A unique design that incorporates shades of blue, often resembling water patterns or a futuristic vibe.
8. Red Camo
A bold and attention-grabbing choice, featuring red and other contrasting colors.
9. Jungle Camo
A vibrant design with green, brown, and earthy tones, perfect for outdoor enthusiasts.
10. Hunter Camo
Designed with hunters in mind, this camo features natural shades of green and brown for blending into forest environments.
11. Digital Desert Camo
Combining digital camo with desert colors to create a modern and stylish look.
12. Camo Flames
A fusion of classic camo patterns with fiery flames, adding an edgy and aggressive touch.
13. Animal Print Camo
Blending traditional camo with animal print textures, offering a unique and wild appearance.
14. Galaxy Camo
Incorporating dark and light shades with stars and cosmic elements for an otherworldly vibe.
15. Metallic Camo
A design that gives a metallic sheen to the camo pattern, providing a futuristic and shiny look.
Remember to choose a camo car wrap design that reflects your personality and complements the style of your vehicle. Whether you prefer a classic military look or something more daring and unconventional, there's a camo design out there to suit your taste.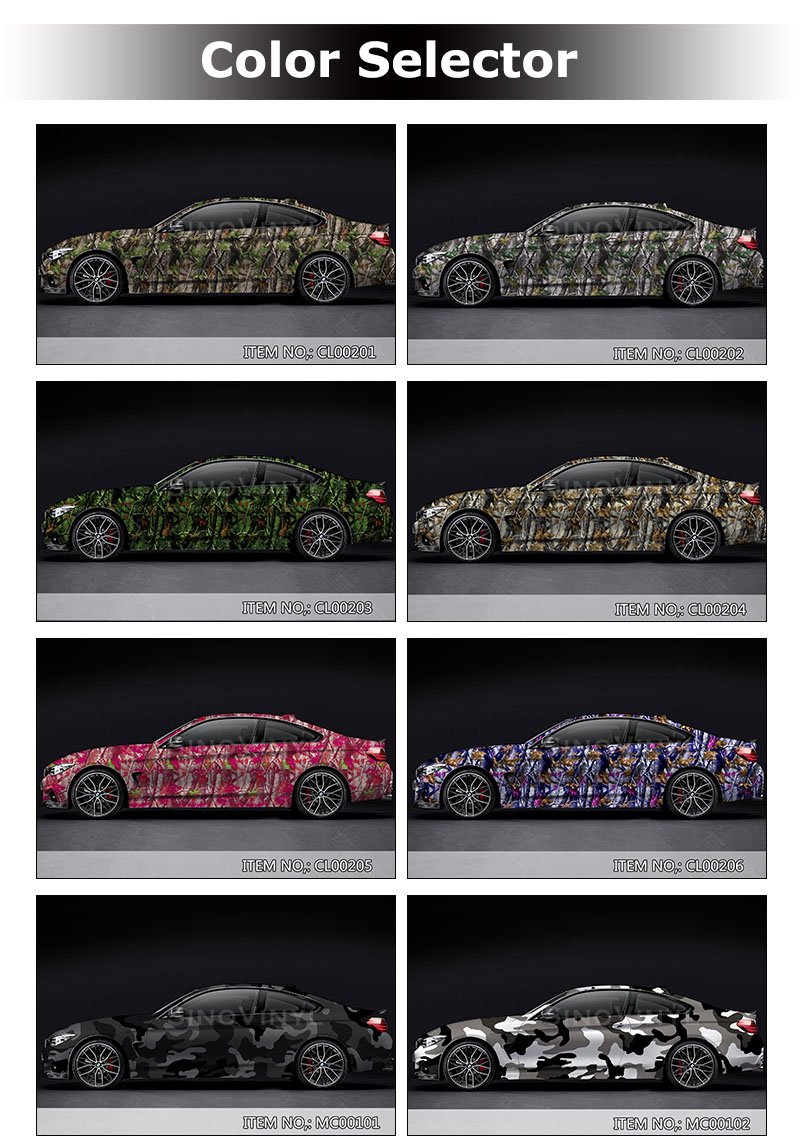 Camo Car Wraps vs. Traditional Paint Jobs: Comparing Costs and Longevity
1. Installation Costs
– Camo Car Wraps: Camo car wraps tend to be more cost-effective compared to traditional paint jobs. The installation process involves applying vinyl wraps, which is generally quicker and requires less labor, resulting in lower installation costs.
– Traditional Paint Jobs: Traditional paint jobs involve extensive labor, preparation, and skilled workmanship, making them more expensive than camo car wraps.
2. Material Quality
– Camo Car Wraps: High-quality vinyl materials used in camo car wraps are durable and can withstand various weather conditions. They offer protection against UV rays, scratches, and minor dents.
– Traditional Paint Jobs: The quality of a traditional paint job largely depends on the type of paint used and the skill of the painter. While some paints can be quite durable, they may not provide the same level of protection as camo car wraps.
3. Customization Options
– Camo Car Wraps: Camo car wraps offer an extensive range of designs and patterns, allowing for unique customization and personalization. Car owners can choose from various colors, textures, and finishes to suit their preferences.
– Traditional Paint Jobs: While traditional paint jobs offer customization options, they may be limited to the painter's skill and available paint colors, making it challenging to achieve intricate designs like camo patterns.
4. Time and Turnaround
– Camo Car Wraps: Camo car wraps can be installed relatively quickly compared to traditional paint jobs. This means less downtime for your vehicle during the installation process.
– Traditional Paint Jobs: Traditional paint jobs require more time, as they involve multiple stages of preparation, painting, and drying. This may result in longer turnaround times.
5. Repair and Maintenance
– Camo Car Wraps: In case of damage or wear, camo car wraps can be easily repaired or replaced without repainting the entire vehicle. This convenience makes maintenance more affordable and straightforward.
– Traditional Paint Jobs: Repairing traditional paint jobs can be more complex and costly, especially for major damages, as it often requires repainting large sections or the entire vehicle.
6. Longevity
– Camo Car Wraps: When properly maintained, camo car sticker can last for several years. They are designed to resist fading and cracking, preserving the appearance of the vehicle for an extended period.
– Traditional Paint Jobs: The longevity of a traditional paint job depends on factors such as the quality of the paint used, the application process, and how well the car is maintained. While some paint jobs can last for many years, others may require touch-ups or repainting sooner.
In conclusion, camo car wraps offer a more cost-effective and customizable option with comparable longevity to traditional paint jobs. However, the choice between the two ultimately depends on personal preferences, budget, and desired level of customization and protection for your vehicle.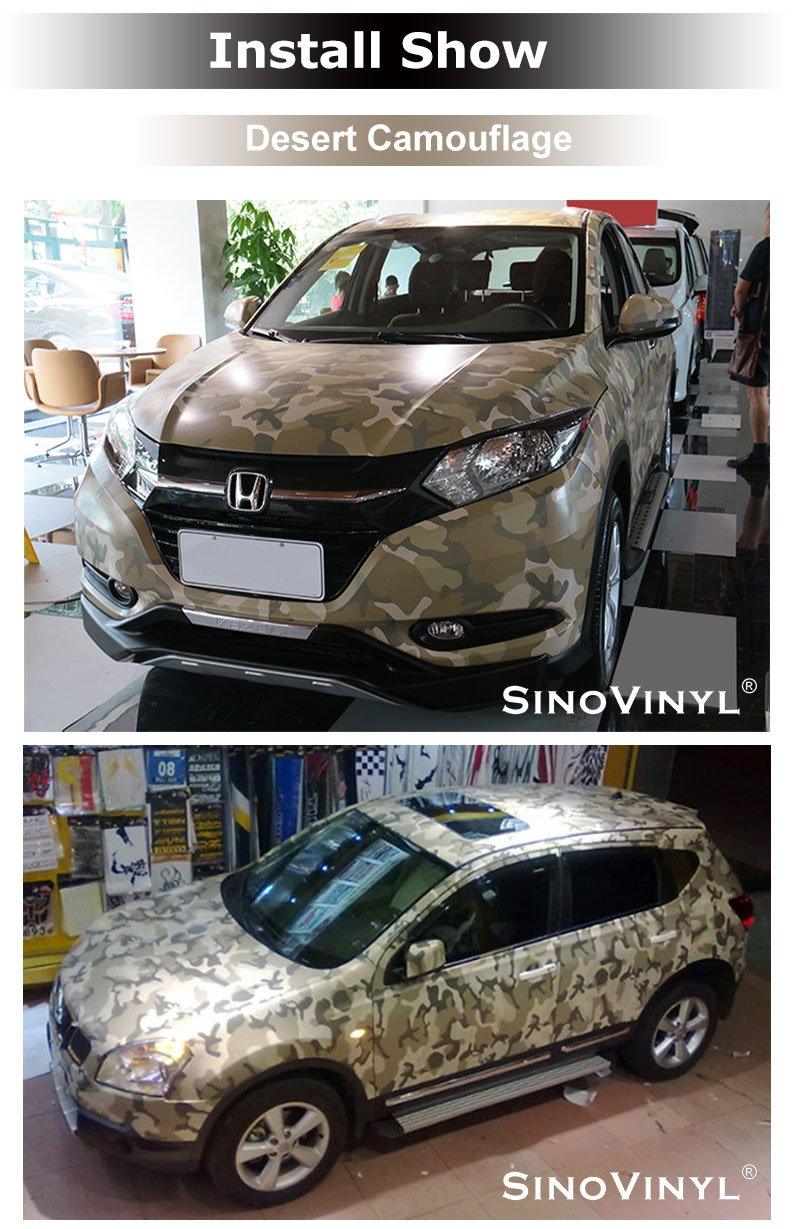 Final Words
In conclusion, camo car wraps have emerged as the top trend revving up car enthusiasts worldwide. With their striking designs, unique customization options, and cost-effectiveness compared to traditional paint jobs, camo car vinyl offer car lovers an exciting way to express their personality and stand out on the road. So, what are you waiting for? Join the movement, embrace the camo, and let your wheels do the talking!