Popular Shades of Blue for Car Vinyl Wraps
Here are some popular shades of blue that are commonly used for car vinyl wraps:
1. Navy Blue: A deep, rich shade of blue that exudes sophistication and elegance. It's a classic choice for a timeless look.
2. Electric Blue: This vibrant, eye-catching shade of blue is known for its high visibility and modern appeal.
3. Sky Blue: A light, airy blue reminiscent of a clear sky on a sunny day.
4. Royal Blue: A bold and regal shade of blue that commands attention and gives off an air of luxury.
5. Cobalt Blue: A bright and intense blue with a slight purplish undertone.
6. Turquoise Blue: A mix of blue and green, this refreshing shade adds a unique and lively touch to any vehicle.
7. Metallic Blue: This shade features metallic flakes that give it a shimmering, reflective quality.
8. Aqua Blue: A lighter shade with a hint of green, giving it a tropical and refreshing feel.
9. Sapphire Blue: A deep and rich blue with a gem-like quality, evoking a sense of luxury and prestige.
10. Teal Blue: A blend of blue and green, teal offers a unique and distinctive look for those seeking something different.
Remember that the perception of color can vary depending on factors such as lighting conditions and the specific shade used by different manufacturers.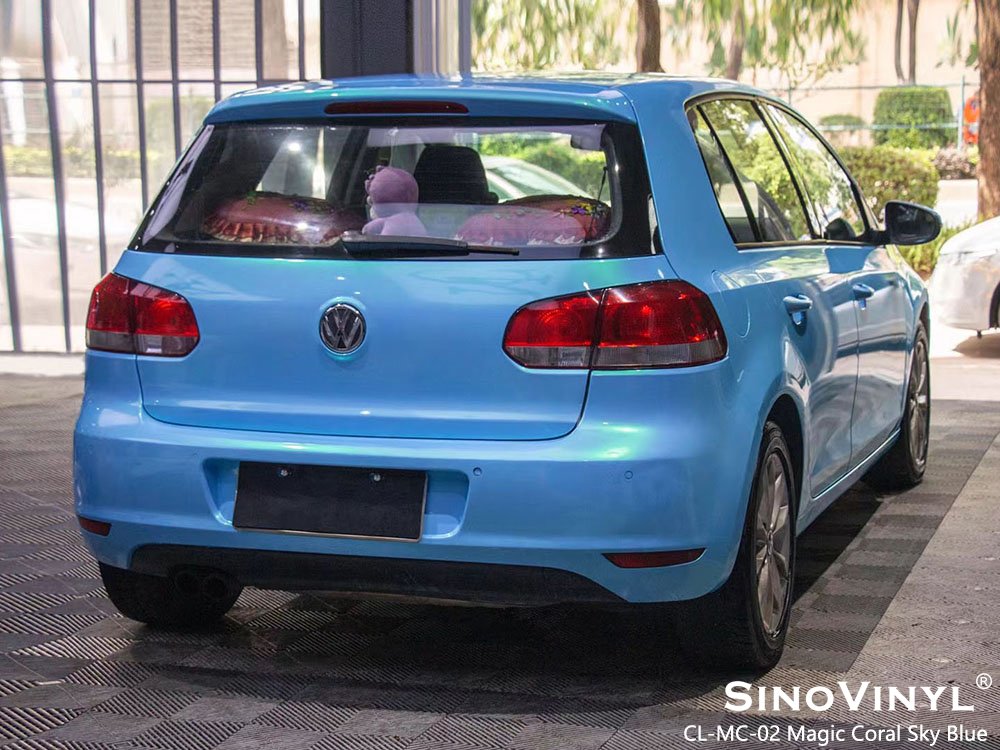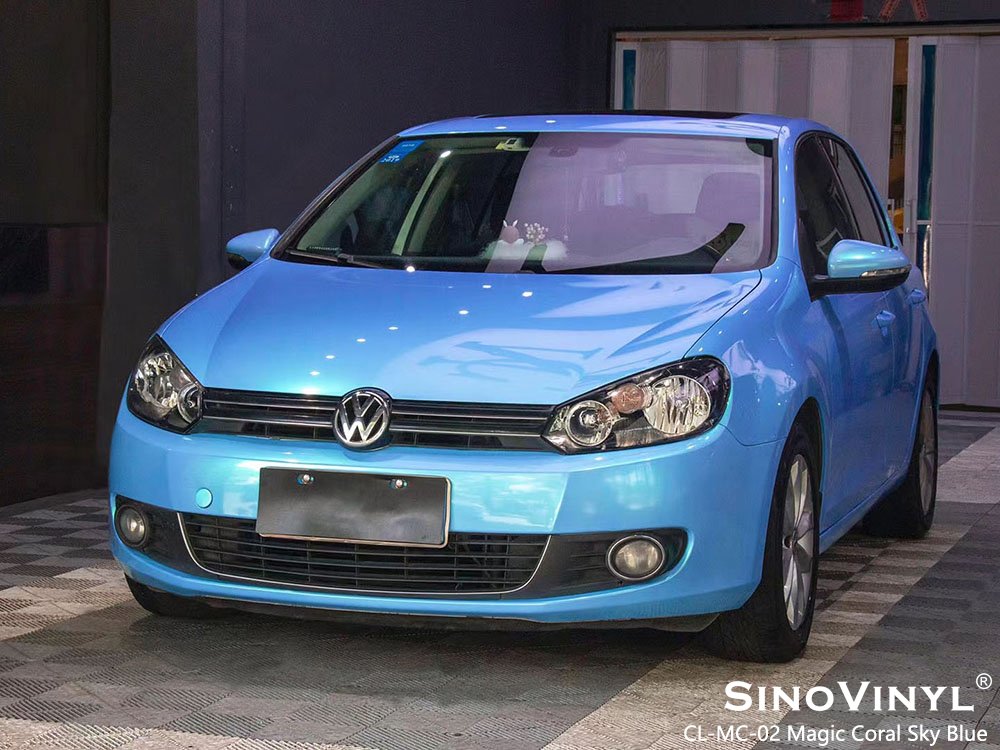 Blue Vinyl Wrap vs. Traditional Paint Job
Here's a comparison of Blue Vinyl Wraps and Traditional Paint Jobs, highlighting the pros and cons of each option:
Blue Vinyl Wrap
Pros
1. Customization Options
Vinyl wraps come in a wide range of shades and finishes, allowing for a high level of customization. This is especially beneficial for achieving unique looks or promotional designs.
2. Protection from Elements
Vinyl wraps provide a layer of protection against scratches, stone chips, and minor abrasions. They also shield the original paint from UV rays, which can cause fading over time.
3. Removability
Vinyl wraps can be removed without damaging the underlying paint. This is particularly advantageous for resale value or if you want to change the look of your car in the future.
4. Cost-Effective
In many cases, vinyl wrapping can be more cost-effective than a high-quality paint job, especially when considering complex paint finishes or custom designs.
5. Quick Application
Applying a vinyl wrap can be a faster process compared to a complete paint job. This means less downtime for your vehicle.
6. Variety of Textures and Finishes
Vinyl wraps are available in different textures and finishes, including glossy, matte, satin, and metallic, allowing for a wide range of aesthetic choices.
Cons
1. Not as Durable as Paint
While vinyl wraps offer protection, they are not as durable as a high-quality paint job. They are more susceptible to punctures and may need to be replaced sooner in certain conditions.
2. Limited Lifespan
Depending on factors like weather, usage, and quality of the wrap, vinyl wraps may need to be replaced every few years to maintain their appearance.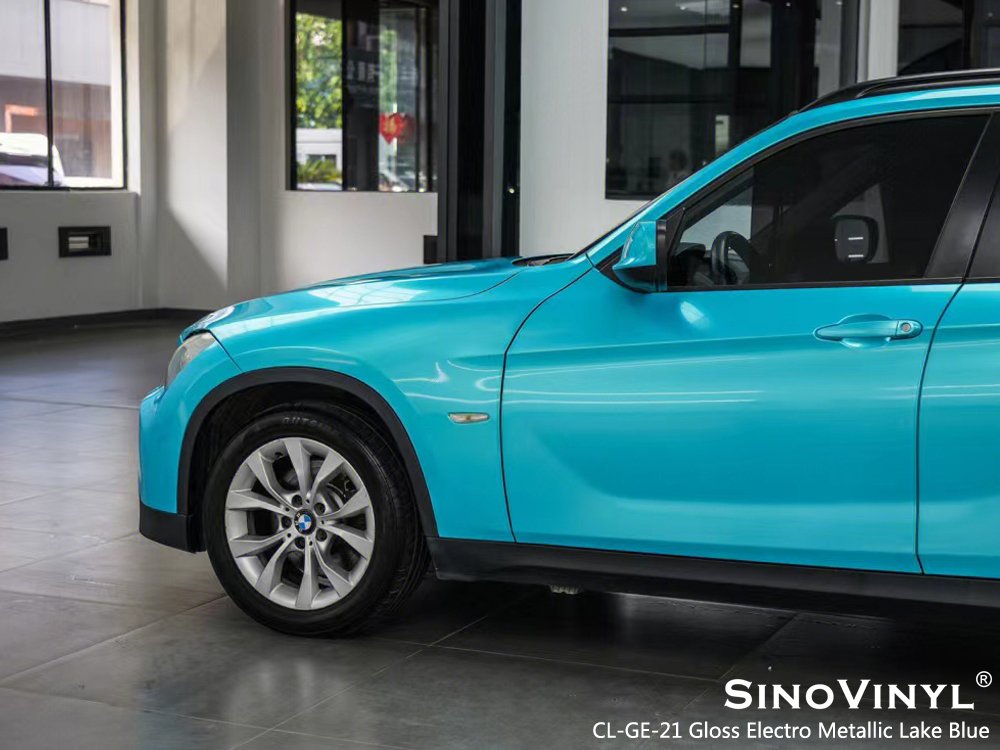 Traditional Paint Job
Pros
1. Durability
A high-quality paint job, especially when professionally done, is more durable and long-lasting than a vinyl wrap. It can withstand harsh weather conditions and road debris better.
2. Seamless Finish
A paint job provides a seamless and smooth finish, without any visible seams or edges that can be present with vinyl wraps.
3. Higher Resale Value
A well-maintained original paint job typically adds more value to a vehicle when it comes time to sell or trade it in.
4. Professional Look
A professionally done paint job can give a vehicle a classic, high-end appearance that may be preferred for certain styles or makes of cars.
Cons
1. Limited Customization
Achieving intricate or unique designs with paint can be more challenging and costly compared to vinyl wraps.
2. Permanent
Unlike vinyl wraps, once a vehicle is painted, it cannot be easily reverted back to its original finish without another extensive process.
3. Time-Consuming
A complete paint job is a time-intensive process that may require several days to complete, depending on the complexity.
Ultimately, the choice between a blue vinyl wrap and a traditional paint job depends on your preferences, budget, and the desired look and longevity for your vehicle.